Commentary: Saving Our Sons – A Call to Action
There are proven solutions to the problems afflicting Black men and boys. It's time to start applying them.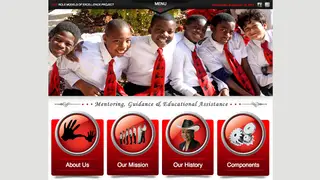 The best way to honor Trayvon Martin is to work to elevate the social status of Black men and boys everywhere. It's up to us to close the opportunity gap and stop the school-to-prison pipeline, so we can, at long last, eliminate society's negative stereotypes and — most importantly — end the crisis of negative self-perception. 
Yes, we must strengthen rules against profiling and discrimination. But we must also attack the underlying structures that breed discrimination and devastating social pressures against Black men and boys. 
This week, I am convening an all-star panel of experts at the Congressional Black Caucus Foundation's Annual Legislative Conference in Washington to identify proven strategies to improve health, education, and economic outcomes for Black men and boys. During the panel — which will feature leaders including the Rev. Al Sharpton, actor Malik Yoba, civil rights attorney Judith Browne Dianis, White House official David Johns, civil rights advocate Tracy Martin and others — I will be discussing the 5000 Role Models of Excellence Project, an in-school comprehensive dropout prevention and mentoring program that I launched in Miami-Dade Public Schools 20 years ago. It has kept thousands of mostly fatherless young men away from destitution and drugs while inspiring ambition and a sense of civic responsibility.   
Other panelists will describe their own experiences and ideas of how to close the opportunity gap. I am grateful for the work of the Advancement Project — which is doing work across the country to ensure children of color are placed on paths to college and careers — for its help organizing this panel. 
We know what works. It's time to put it into practice. 
Members of the 5000 Role Models Project will be present in Washington for Friday's panel.  They are living testaments to the fact that young people can transform massive challenges into inspiration and achievement. For the sake of their siblings, classmates and young men and boys around the nation, we must act now.
Congresswoman Frederica Wilson represents Florida's 24th District and is a member of the House Education and Workforce Committee. A longtime educator and advocate for young people, she is the founder of the 5000 Role Models of Excellence Project. 
The opinions expressed here do not necessarily reflect those of BET Networks.
BET National News - Keep up to date with breaking news stories from around the nation, including headlines from the hip hop and entertainment world. Click here to subscribe to our newsletter. 
(Photo: 500RoleModels.net)