Will Rep. John Conyers Run for 26th Term as a Write-In Candidate?
The signatures on Rep. Conyers's primary-ballot petition are being challenged.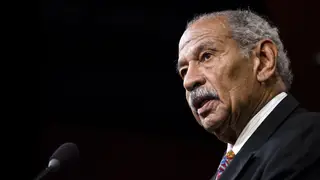 Rep. John Conyers (D-Michigan), the second-longest serving member of the U.S. House of Representatives and a founding member of the Congressional Black Caucus, appears to not have enough signatures to appear on Michigan's Aug. 8 primary ballot. The problem stems from the fact that two of the people who circulated the ballot petition are not registered to vote themselves, WDIV-TV reports. As a result, the signatures they collected are invalid, making the 50-year congressman fall short.
Wayne County Clerk Cathy Garrett told the television station Friday that a final decision will be made by May 7, following an investigation of the challenged signatures.
"I am confident that at the end of these proceedings Congressman Conyers will be certified and on the primary election ballot in August," said John D. Pirich, an attorney for Conyers's campaign.
Whether on the ballot or a write-in candidate, Conyers, who won 83 percent in the 2012 general election, will face off against Detroit minister Horace Sheffield. Five of the 16 members of Michigan's congressional delegation have announced their retirements. If Conyers were added to that mix, it would mean the loss of more than a collective 150 years of experience.
(Photo: Drew Angerer/Getty Images)