Nearly 240 Black Workers Want To Join Class-Action Lawsuit Against Tesla
Elon Musk's company faces multiple suits alleging that the automaker condones a racist work environment.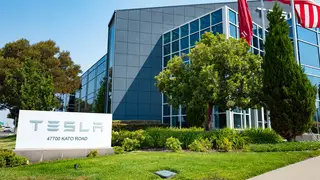 Scores of former Black employees and contractors sought to join a racial discrimination lawsuit against electric-car maker Tesla, adding credence to numerous allegations that the work environment at a California assembly plant is toxic for Black people.
Fortune reports that Marcus Vaughn filed a request Monday (June 5) with a California state court to add almost 240 other Tesla workers to his 2017 lawsuit, in which he describes the automaker's production floor in Fremont, Calif. as a "hotbed for racist behavior."
In filing for class-action status, Vaughn's attorneys allege that Tesla has ignored a "pattern and practice of race discrimination" at the factory in the face of other lawsuits and numerous complaints, including from the state of California. A class status hearing is scheduled for July 14.
Vaughn's request for class-action status included sworn statements from Black workers who said they experienced unchecked harassment at Tesla, including racist graffiti written in common areas and racist slurs.
Tesla, owned by billionaire entrepreneur Elon Musk, has been hit with several high-profile lawsuits.
In another case, Raina Pierce, a Black woman employee at the Fremont plant, sued Tesla in April 2022, alleging that the company largely ignored her complaints about widespread racism at the facility. The lawsuit claims that Pierce's supervisors referred to her using the n-word. Also, a supervisor who accused her of getting him in trouble allegedly made a vulgar comment about not being able to stand Black people.
Also in 2022, California's Department of Fair Employment and Housing sued Tesla over its treatment of Black employees at the Fremont plant. The lawsuit followed a three-year investigation of alleged racist abuse. It uncovered multiple instances of racist language and graffiti, managers penalizing Black employees more harshly than White employees, as well as a practice of blocking career advancement for Blacks and unequal pay for similar work.
Tesla didn't respond to Fortune's request for a comment on the class-action request. However, the company denied wrongdoing in response to Vaughn's lawsuit in 2017, saying "Tesla is absolutely against any form of discrimination, harassment, or unfair treatment of any kind."