Jennifer Lopez And Ben Affleck Reportedly Purchase A $69 Million Mansion
Don't be fooled by the rocks that they got, "Bennifer" might be headed to a new block!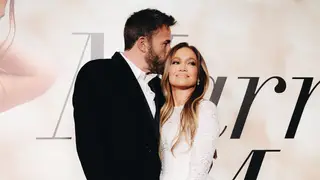 Jennifer Lopez and Ben Affleck have been keeping our attention for quite some time and today is no different. Word on the street is that the newlyweds may be snagging a double-digit, million-dollar home previously owned by Mariah Carey's former fiancé, James Packer, and legendary actor, Danny Devito.
According to TMZ, "Jennifer Lopez's car was spotted (recently) at a massive estate in Beverly Hills. There are also four moving trucks outside the estate -- and there were moving trucks (recently) at both Ben and Jen's current homes in the L.A. area." Just a couple of weeks ago, the lovebirds tied the knot at a midnight ceremony in Vegas on July 16, 2022, with just the two of them there to celebrate their unconventional but oh-so-romantic love story. So, it makes perfect sense that the couple would be house hunting.
The 29,000-square-foot abode includes seven bedrooms and is equipped with a movie theater, hair salon, wine cellar, entertainment room, gym, and massive pool. Not to mention, it has more than one guest house. The Daily Mail says that "DeVito sold the seven-bedroom home in 2015 for $28 million to developers Stuart and Stephanie Liner. The Liners then made numerous upgrades to the estate and listed it for $85 million. Packer then bought the property for around $60 million in 2018."
It has yet to be confirmed whether or not the Afflecks have bought the home since it's technically not even on the market, according to TMZ's sources. We hope to hear confirmation soon as we believe this would be a home sweet home for J.Lo, Ben, and their blended family.
See photos of the mansion here!