Look: Carmelo Anthony Reveals His Advice to Colin Kaepernick as the Cover Subject of 'ESPN the Magazine'
The NBA All-Star also talks police brutality incidents.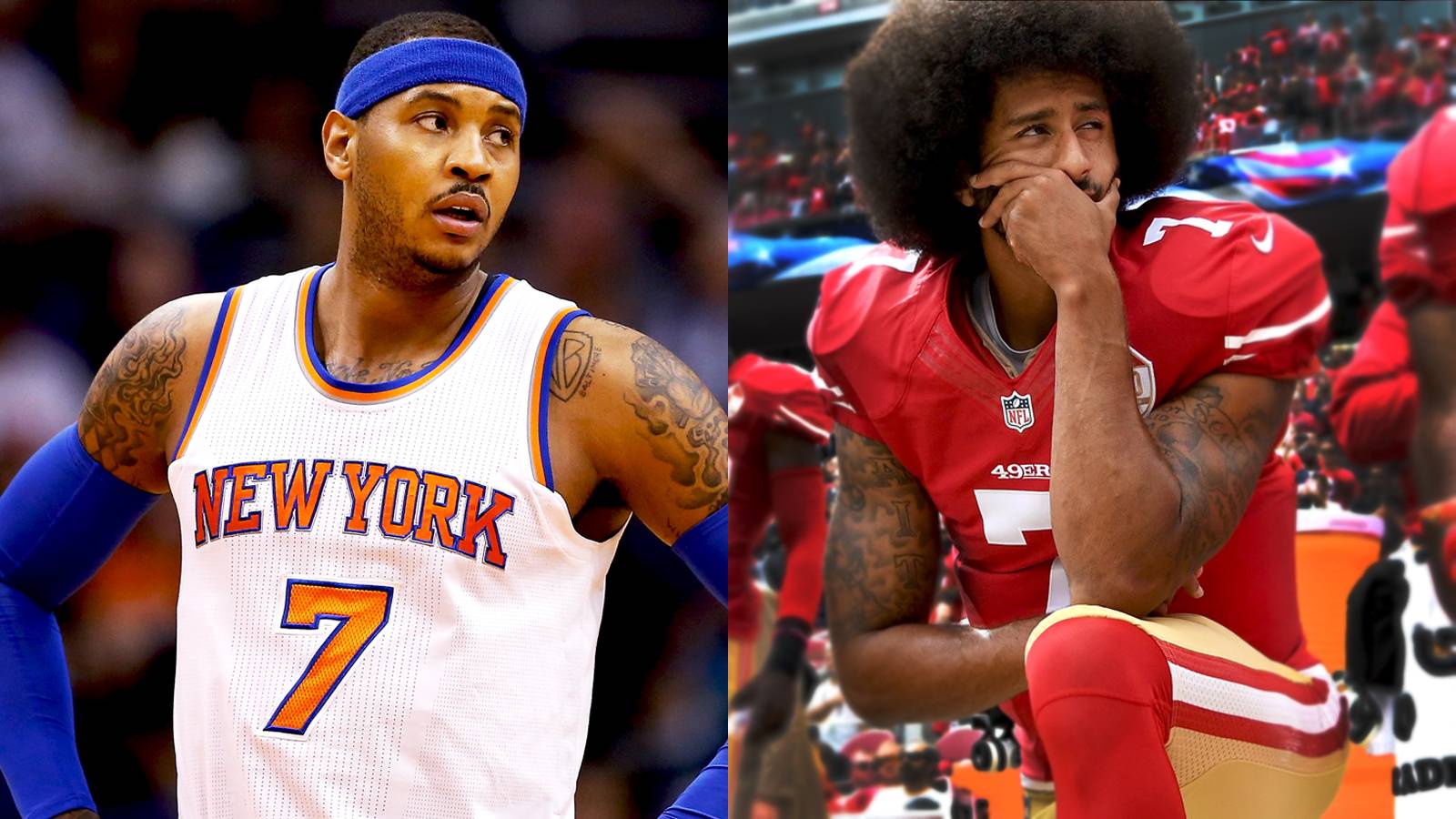 Carmelo Anthony certainly isn't shy about speaking his mind about the social injustices taking place in America.
A year prior to that, in April 2015, Melo marched in Freddie Gray protests in Baltimore.
And when Kaep did, Melo didn't hesitate, hitting him with the brutal truth, as he revealed as the cover subject of the new NBA preview issue of ESPN the Magazine.
"I spoke to him that night. He reached out to me that night," Anthony told the magazine about Kaepernick. "And I'm watching and I'm like, 'OK.' Like, 'What's next?' In a very respectful way, he was like, 'I took this step and, you know, just wanted to get your thoughts on what's happening.' 
And I said, 'Well, you're courageous.' I said, 'You just showed a lot of courage in what you just did, but now is the hard part because you have to keep it going. So if that was just a one-time thing, then you're f*****.'"
He continued telling Kaepernick: "'But now you keep it going and be articulate and elaborate on why you're doing it, and be educated and knowledgeable of why you're doing it so when people ask, you can stand up for what you believe in and really let them hear why.'"
In addition to speaking about Kaepernick in the new issue of ESPN the Magazine, Melo also reveals that it took the police-related death of Freddie Gray in Baltimore for him to say, "enough is enough."
"But when it's powerful, timing is everything, and for me the Freddie Gray thing was the one that tipped me off," Anthony said. "It was like something just exploded. It was like [snaps] now was the time. Enough is enough. And everybody's calling me like, 'We should do this' or 'We should do that,' and I was like, 'I'm going home. If you want to come with me, you come with me, but I'm going home. I'm not calling reporters and getting on the news; I'm actually going there.' I wanted to feel that. I wanted to feel that pain. I wanted to feel that tension."
BET Sports News — Get the latest news and information about African-Americans in sports, including weekly recaps, celebrity news and photos of your favorite Black athletes.