André 3000 Reminds Everyone Once Again Why He's A GOAT With Verse On Killer Mike's 'Scientists & Engineers' Single
The song is from the Atlanta rapper's forthcoming solo album 'Michael'.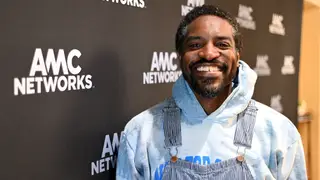 It's an extreme rarity for the world to receive a music appearance from André 3000, so when it happens it's a very big deal.
That's what we got this week, thanks to Killer Mike's new single "Scientists & Engineers." Also featuring Future, the track features an opening verse from 3 Stacks that reminds us why he's one of the greatest to ever do it.
"All I know is when the portrait paintеd, better have your portion of thе rent / A dollar more and you will get upgraded when you've think you've made it, you are then / Just tolerated, overrated, hope I'm 80 when I get my second wind," the Outkast emcee raps during his verse.
Andre's verse, mixed with Future's angelic chorus supported by Eryn Allen Kane, make for the perfect set up for Mike's verse, which is also excellent and fast-paced – almost in a double time manner.
While Future may be a slightly random selection to be on the song, there's actually some family ties involved as he's the younger cousin of Dungeon Family member Rico Wade, who's also part of Organized Noise, the production group that produced Outkast's first few albums.
Listen to Killer Mike's "Scientists & Engineers" below.