Tracy Morgan Too Emotional to Watch SNL Tribute
Comic continues recovery after fatal crash; children of fellow comedian/passenger James McNair awarded $10 million.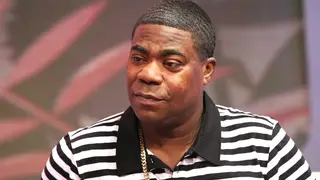 Tracy Morgan has not been seen much since his near tragic vehicular accident in June 2014. The actor/comedian even missed the Saturday Night Live 40th anniversary show, refusing to watch the special because he was not emotionally able.
Morgan's attorney, Benedict Morelli, said Friday (March 20) that his client was in too much of an emotionally fragile state to watch the segment, reports CBS. His 30 Rock co-stars Tina Fey and Alec Baldwin, however, did a short piece in his honor.
Morelli said that Morgan was "incredibly moved" by the gesture but has yet to watch the segment.
Morgan and his friend and fellow comedian James McNair were rear-ended by a Walmart truck on the New Jersey Turnpike last year. While the Top Five actor is still recovering both physically and emotionally from the incident, McNair died on contact. McNair's children, Jamel, 26, and Denita, 19, recently reached a $10 million settlement with Walmart.
Meanwhile, Morelli reports that Morgan is steadily on the road to a safe recovery. "Tracy is working very hard to get better, physically, emotionally and mentally," he said. "Because in all three areas, he has a struggle on his hands." 
BET.com is your No. 1 source for Black celebrity news, photos, exclusive videos and all the latest in the world of hip hop and R&B music.
Click here to subscribe to our newsletter.
(Photo: Bennett Raglin/BET/Getty Images)