Rihanna Opened The 2016 VMAs And KILLED It
Ri Ri's all over this year's award show.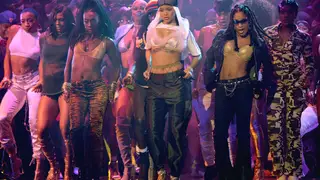 Rihanna was enlisted to open the 2016 MTV Video Music Awards and as usual, won.
Trotting out fan favorites "We Found Love," "Don't Stop the Music" and "Only Girl," Ri Ri had the VMAs lit. The visuals of her set was rather interesting as well. She was accompanied by dancers in pink hoodies, while also donning a bunch of pink gear herself.
Rihanna is also accepting the coveted Michael Jackson Video Vanguard Award tonight. She has big footsteps to fill too as the last person to accept the award, Kanye West, used the award stump to announce his bid for the American Presidency in 2020. In celebration of her big night, the bad gal will perform a total of four times. 
Check out video and pics of Rihanna's 2016 VMAs sets below.