Michael B. Jordan Brutally Shades Roseanne Barr
He makes a valid point.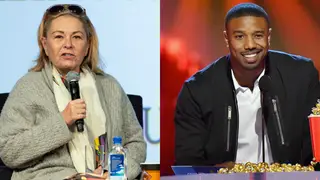 Roseanne Barr has drawn a line in the sand after she made those boldly racist comments about Valerie Jarrett that ultimately led to her demise.
Since then, not only has she been officially canceled, both professionally and socially, but her Hollywood peers also seem to find her disgusting, and the latest to voice this sentiment is Black Panther star Michael B. Jordan.
Jordan recently made it crystal clear that he is definitely not a fan of Roseanne.
While accepting the award for Best Villain at the recently aired 2018 MTV Movie & TV Awards, the actor explained that he thought the disgraced comic and actress was more deserving of the honor.
"I'm shocked that I won this award for best villain," he said. "I thought, for sure, Roseanne had that in the bag," he said as he held the golden popcorn trophy awarded to him for his work as Erik Killmonger.
On an even more hilarious note, the Creed star ended his speech by urging Black Panther fans to stop asking the film's main star, Chadwick Boseman, to say "Wakanda Forever," per the request of the actor himself. He's sick and tired, y'all.