Kerry Washington Graces Hollywood Reporter With TV Drama Queens
The actress talks about her gig as a substitute teacher while trying to make it in Hollywood.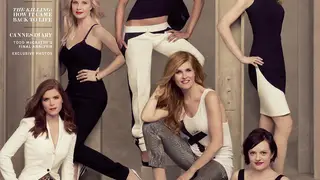 (Photo: The Hollywood Reporter, June 2013)

Kerry Washington is planted firmly at the top of a pyramid of hot drama queens on The Hollywood Reporter's latest issue. The Scandal star and five other fierce ladies of television are gracing the cover in black and cream outfits. Washington stands tall in a midriff baring blouse, low-waist slacks and classic pumps.
The other actresses include Kate Mara of House of Cards, Monica Potter of Parenthood, Connie Britton of Nashville, Elisabeth Moss of Mad Men and Anna Gunn of Breaking Bad.
In a round-table discussion, each talked about the less-than-glamorous jobs they held before becoming the hot stars they are today. Washington admitted she continued doing hers even after she started appearing in films.
"It wasn't one of my worst jobs, but I used to be a substitute teacher for New York City schools," the Bronx native said. "It was great and hard, and I even did it after I started working in films. But I had to stop after I did Save the Last Dance because the students were like, 'Chenille is substituting!'"
Get ready for the BET Experience, featuring Beyoncé, Snoop Lion, Erykah Badu, Kendrick Lamar and many more. Go here for more details and info on how to buy tickets. Sign up now to attend free film screenings, celebrity basketball games and more.
BET.com always gives you the latest fashion and beauty trends, tips and news. We are committed to bringing you the best of Black lifestyle and celebrity culture.
Click here to subscribe to our newsletter.