#OnTheVerge: Rx Papi Is An Open Book In His Lyrics And In Real Life
The Rochester, New York native's new album is just the latest among his prolific output.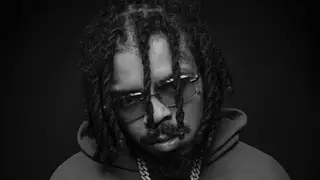 One thing's for sure about Rx Papi, he will let you know about his past and his present in both his music and in real life conversation, full stop.
"I was a gangsta. I grew up robbing n****s my whole life, breaking in people's s**t, taking people's s**t. I started selling drugs and s**t. All the s**t you hear about the hood, I'm the epitome of that," he told BET during a recent interview. "This me right here."
It's the unapologetic nature that comes out in the Rochester, New York native's wave of rapidly released music over the past few years, and it's caught some major attention in the hip-hop world. Just ask Earl Sweatshirt, who told Pitchfork in 2022 about his revering of a YouTube video from the prolific underground phenomenon and his other half RXK Nephew, who dropped over 500 songs over the course of the prior year.
It's that passion, which often has Papi's gruff storytelling relaying tales of his troubled past while mixing it with witty references to high fashion, cartoons, and whatever else runs across his mind within the relentless bar-after-bar style he's uniquely known for. When asked about his creative process, he notes that there's little thinking prior to hitting the studio – rather it's an assembly line of track churning akin to flapjack output at a church pancake dinner.
And while the premeditation may be missing, it doesn't take anything from Papi's ability to be extremely lyrical. That's very much evident in his new album My Name Is My Name, which not only begins where he left off on previous projects like Dawg Storm, but gets very confrontational off top – as exemplified by the intro "W.A.N.W." (an acronym for wish a n***a would).
"For the album, it was more of a personal thing," Papi notes. "I live my life outside, out there. It's like if you know, you know. It's a statement like stop playing with me. I'm not him. I'm the bad guy, and I don't mind being that. If a n***a want to make me the bad guy, I'm never going to fight to not be the bad guy. If you want me to be that, I'm that."
It's this complete lack of caring of what people think of him that helped propel Papi into the underground spotlight a couple of years ago. While in prison, his ear-catching project Foreign Exchange (with Gud) began going viral as songs like "Still In Da Hood" connected with listeners who may also consider themselves misfits.
"N****s move like Undercover Brother / Papi just a dirty m****rf****r," he raps on the song. "Grew up on the east, nobody loved him / He don't need to know how to love nobody."
"It was bittersweet to me because I didn't know it went as viral as it did at all nowhere near at all," says Papi about being locked up during the project's release. "So I'm getting little news here, my peoples are sending me articles and s**t that they doing. It just felt like any other regular s**t I do; Like and other tape I drop that do's its s**t.
For Papi, one of his main challenges is actually trying to fit within the ringer of the music industry while also not relinquishing any of his authenticity. Truly on the verge of a higher plateau of stardom, it will be up to him in regards to how he'll carry his enigmatic personality while discussing his vision to those who can help make it happen.
"Dealing with all these formalities and professionalism and all that good s**t – that ain't really my strong suit," he says. "I like to pull up places, 15 n****s with me, nobody really cares about like nothing you talking about. And I'm not no ignorant n***a or nothing like that. I like to have fun and I really got a problem with authority. A bad problem with authority. I really like to be told nothing. I'm growing, I make a lot of money, I pay taxes and take care of people, take care my family. I just be trying to learn how to like deal with people and deal with certain situations more professionally."
For now, Rx Papi's not slowing down, already planning for another project release by the end of 2023. It's definitely "real Rx."