To Fight and Win Against Prostate Cancer: Three Black Men Share Their Stories
September is Prostate Cancer Awareness Month and Black men who remain untested are among the most susceptible. But these men say there is another way.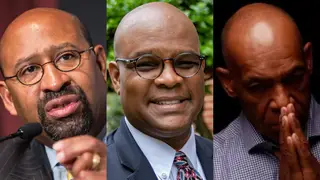 Black men face a number of health disparities that challenge their very lives each day, but among the most prevalent is prostate cancer. The disease is the second leading cause of cancer among American men and 1 in 6 Black men will be diagnosed in their lifetimes. But that doesn't have to be a death sentence if it is detected early and treated by patients, families and doctors teaming up.

Here, three Black men talked to BET.com, explaining  just how they did that and survived. Now they want others to do the same for themselves and their loved ones.
—---------------------------------------
Former Philadelphia mayor Michael Nutter served in office from 2008 to 2016. But at the end of his second term, despite regular testing, he was found to have prostate cancer. But he says dealing with it early made all the difference.

When I was when I was in office, as mayor, pretty much every year, every summer, I would kind of do my whole routine of doctors, whoever I was seeing, I would go see him in the summer to have a little more flexibility in the schedule, so I was getting regular PSA (prostate specific antigen) tests.
I was diligent on it, things were fine. Then, my doctor and I noticed my number going up a little bit, but not alarming. So we engage in what they call active surveillance, and continue that for a few years. I then left office in January 2016 and probably fell off of my regular schedule a little bit, you know, hustle and bustle and doing my thing.

Then subsequently I continue to see that movement, but again not alarming. Somewhere in there, I had a biopsy. The doctor talked about the results of the biopsy and said there were certainly cancerous cells. But again not life threatening. In 2020 I had another PSA, which was really kind of off the hook. At that point, you didn't have to be a medical professional to know that additional action needed to be taken, we were no longer in active surveillance.
I hadn't talked to my family, which was a massive mistake on my part, but I I wasn't prepared mentally to accept what it is. I was fearful about the future because I didn't know what that was going to be either. After being pissed with me for not telling them what I knew, and when I knew it, there were some tight jaws at the beginning of the conversation.  But once we got past that they wanted to know what's the game plan? There was a document that my doctor gave me, my wife and daughter read it and they knew what it was going to be.

I fully understand that I'm not gonna live forever, but I'm gonna try to maximize my chances. Cancer in general, and certainly prostate cancer, you either deal with it, or it will deal with you. So I decided to have surgery in December 2020. It was overall successful. There were some follow up treatments based on testing that I needed to do, but at this point, I've had three really good tests in a row.

So I think if it's caught early and treated, Black men have a very, very high survival rate. But I think the issue there is, you know, knowing your number or getting screen and catching it as early on as possible. I think the challenge is getting men to focus on this issue. Get screened early, deal with it early. I know we have the new campaign, "I Love You, Get Screened." That's what I would say to folks.
You need to take care of yourself, you need to get screened, you have people that you love, folks, you want to be around, people who want to be around you. So even if it's not for yourself, do it for others.

-- As Told To Madison J. Gray
James Williams, Jr.  is the American Cancer Society's Cancer Action Network's director of federal affairs for cancer prevention, early detection and screening. He is also a two-time prostate cancer survivor. Through the urging of his wife, he found out about his condition early and acted on it.

I was first diagnosed with prostate cancer when I was 39 years old. That was in 1999. At that time, I was chief of staff to a member of Congress and a new dad with three young children.
At the urging of my late wife, I used to have a physical exam on my birthdays. So that year, she said to me, "You know, James, maybe you should start being checked for prostate cancer."
I was like, "I'm 39. That's an older man's disease. I was running marathons and all those sorts of things. Why am I going for a prostate cancer check?"
So, the American Cancer Society held prostate cancer screenings for congressional staffers at the Rayburn House Office Building. I went to get my PSA blood drawn and a digital rectal exam. My rectal exam seemed a little bit abnormal, but my PSA results took a couple of weeks. And indeed, I had a number of four when I was supposed to have a level of zero.
I went to my primary care provider, who said, "Don't worry about it; you're healthy. I wouldn't come back for another five or six years. But you're OK."
My wife asked him to follow up with another doctor, but the second primary care doctor said to give it six months and see what happens. I went back in six months, and my PSA doubled. I had a biopsy and got a positive result for prostate cancer.
It wasn't how I envisioned it from TV – a calm conversation. My wife was sitting there with me, and he was shuffling through some papers. I heard, "Hmm, numbers are high. Prostate cancer. Carcinogens. Yes, you have prostate cancer."
I could not believe it. I was like, "Wait, you know, I'm exercising and eating right. And I couldn't, I really couldn't believe it."
So like all people, when you're told that you have cancer, I was afraid. But I had to take the next step forward. It wasn't necessarily for myself; it was for my children. And so, while I was afraid, and I held my wife's hand tightly, she kissed me. I said, "OK, we will get through this together."
Next, I had to decide on my course of treatment. I interviewed five different surgeons and settled on the fifth, Dr. Arthur Burnett, an African-American physician who ran the urology department at Johns Hopkins. Dr. Burnett sat down with me and my late father-in-law for two-and-a-half hours and talked to me about my options.
I was enrolled in a clinical trial after my first prostate cancer surgery and had regular PSA exams. My PSA numbers were inching up, and the cancer returned. That was in 2004, when I was 44 years old. And so Dr. Burnett recommended radiation. I forgot how many rounds of radiation I went through. I think maybe 20 or 22.
Having a prostate cancer diagnosis led to becoming a volunteer with the American Cancer Society's Man-to-Man and Road to Recovery programs. I would go into hospitals, talk to men who had just had prostate cancer surgery and say, "Hey, I had a catheter coming out of my body just like you. And we're going to get through this together."
-- As told to Nigel Roberts
David A. Ford is a prostate cancer survivor and a member of the American Cancer Society Cancer Action Network (ACS CAN) Board of Director. In his journey, he had to fight cancer on two fronts. That's the main reason he is committed to working with ACS and spreading the word that Black men should be getting exams for early detection.
I was actually diagnosed with colorectal cancer in 2015 and prostate cancer in 2018. I'll be 66 in the next couple of months. With prostate cancer, I waited too long to get the exam. It wasn't until I was in the hospital with a tumor that had been discovered on my intestines that I took it seriously. I had the papers to get an exam on my desk for weeks Luckily enough, it did not go into my lymph nodes but was having a lot of rectal bleeding. When the biopsy came back with cancer in my colon, it was decided that I needed to have surgery to remove the cancer from my colon. That experience really woke me up to be much more conscious and responsible for getting annual checkups. Three years later, in the same month, I got a call from my internal medicine doctor right after I had my blood work and he said, 'You know, I have some concerns about your PSA levels being higher than normal and we're referring you to a urologist to take a look and see if there's any concern.'
Discovering that I had prostate cancer put a different fear in me because of cancer in two different organs within a short period. It brought a lot of anxiety and emotional stress. I did not want my employer to be notified of my cancer diagnosis again because of my age and the fact that like any other African American, we have a fear of losing our jobs so I just decided to keep my health issues quiet and go through radiation.
Once I realized that my prostate cancer was eradicated, I shared it with my employer. Because of HIPAA laws, you don't have to tell them a whole lot about it and it protects you.  I didn't do that and I think that that was the wrong approach.
After going through two procedures and two rounds of treatment, my courage was also built with the support that I had from family and friends. I couldn't have made it without them. Because of their support, I want to spread the word about opportunities that will help with early detection without it being a crisis at a later stage. I think it will also change the number of deaths that are occurring on an annual basis in the African American community of Black men with prostate cancer. When we can get early detection, it's more treatable.
I guess in many ways, I know I'm blessed to say that today I'm cancer-free. That brought me to realize how important it is for me to be engaged in a cause that is going to help other people.
-- As Told To Rashad Grove
—---------------------------------------
For more information about prostate cancer diagnosis, treatment and care, please go to Fightcancer.org.