Prostate Cancer Awareness Month: Why Black Men Face Unacceptable Disparities
Black men are nearly twice as likely to be diagnosed with and over twice as likely to die from the disease, but it doesn't have to be this way.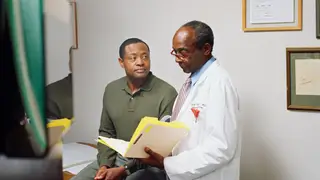 The Black population is the third largest racial or ethnic group in the United States, second only to White and Latin American populations. Yet, while cancer death rates across all racial and ethnic groups are decreasing, the Black population has the highest death rates and shortest survival rates of any racial/ethnic group in the U.S. for most cancers, according to the American Cancer Society. These disparities are largely driven by social factors within and outside of the healthcare delivery system.
One of the largest disparities in cancer is the difference in prostate cancer between Black men and other racial or ethnic groups. Prostate cancer is the second leading cause of cancer death among American men and is the most commonly diagnosed, with 1 in 6 Black men, and 1 in 8 non-Hispanic White men, likely to be diagnosed with prostate cancer in their lifetime. Currently, there are more than 3 million American men living with the disease. While these statistics may seem daunting, prostate cancer is a highly curable disease when detected early. The most recent research shows the relative five-year survival rate for all men with prostate cancer is 98 percent.
September is Prostate Cancer Awareness Month. During this month, prostate cancer organizations, survivors, and advocates nationwide dedicate their time towards raising funds and awareness for prostate cancer, as well as the substantial disparities that Black men experience in this disease. Black men are nearly twice as likely to be diagnosed with and over twice as likely to die from prostate cancer compared to other racial or ethnic groups.  

RELATED: NFL Hall Of Famer Shannon Sharpe Reveals He's A Prostate Cancer Survivor


During the year I've been in the role of Vice President of Health Equity at ZERO - The End of Prostate Cancer, as well as a public health and healthcare delivery researcher, I have heard so many stories that I am sure are familiar to you: "I didn't know [insert name of male relative] had prostate cancer until after they died" or "nobody talked about prostate cancer in my family until I shared my diagnosis and I then learned several men had it or had died from it."
As Black men, we often hear that we don't talk about our health enough, or that we won't go to the doctor unless forced to do so (and of course, this might hold a bit of truth). But, from very early ages, many of us receive messages that "real men" don't ask for help. If you combine these messages with our historical and present experiences with discrimination in the healthcare delivery system (and other systems such as education and criminal justice), the pathways to our poor health outcomes are often frustratingly expected.
Unfortunately, our lack of awareness about and access to early detection and preventative care is killing us too soon.  I'm reminded of a quote by NBA legend and prostate cancer survivor Oscar Robinson: "I didn't know about early detection, or about heart attack prevention or anything. Nobody knew about prostate cancer unless it killed them."
While this test is briefly uncomfortable, the comedian Earthquake said it best when describing his decision to get screened for prostate cancer: "Health is wealth," and the benefits of early detection from these tests may ensure that we are here much longer for our families, and far outweigh the few seconds of discomfort.   

PHOTOS: Understanding Prostate Cancer: What You Need to Know
The PSA test is a blood test to detect the level of the prostate-specific antigen protein.  Elevated levels of this protein suggest the need for additional testing because an elevated PSA may also be a sign of prostate enlargement or inflammation. Additional testing may include a biopsy where samples of the prostate are taken to be evaluated under a microscope.
The MRI is performed to determine whether a biopsy is needed, to guide where on the prostate the biopsies are taken, and to determine whether the potential cancer has spread to nearby areas outside of the prostate. The diagnosis of prostate cancer is only made following the biopsy. Yet, access to and engagement with preventative care such as prostate cancer screening can help reduce prostate cancer disparities for Black men.
Black men and other men at high risk (those with a father or brother who has been diagnosed) are recommended to start the conversation with their healthcare provider about screening in their early 40s. Yet, the decision to get screened for prostate cancer is confusing for many of us because organizations like the American Cancer Society (ACS), the American College of Physicians, the United States Preventative Task Force, the American Urological Association (AUA), and the National Comprehensive Cancer Network (NCCN) have different recommendations for the age to start screening for prostate cancer. These organizations all recommend shared or informed decision-making for when to get screened.
Organizations like ZERO, the Prostate Health Education Network (PHEN), the Prostate Cancer Foundation, and others are working not only on increasing health literacy and health self-efficacy for men and their families, but ensuring that Black people have access to high-quality healthcare and sufficient insurance coverage will require substantial government intervention.
To ensure that everyone has a fair and just opportunity to find, prevent, treat, and survive prostate cancer, we as Black men must be informed about our risks for prostate cancer, we need for healthcare providers to be trustworthy partners to us as we navigate decisions about prostate cancer screening and treatment, and we need researchers and policymakers to further identify factors contributing to disparities in prostate cancer and to remove those barriers to equity.
These efforts will ensure that Black men not only expect equity as we navigate the healthcare delivery system for preventative care and treatment, but that we actually get it!
Dr. Reginald Tucker-Seeley, MA, ScM, ScD, is Vice President of Health Equity at ZERO – The End of Prostate Cancer, a national nonprofit that advocates for prostate cancer patients. He has also served as the inaugural holder of the Edward L. Schneider chair and Assistant Professor of Gerontology in the Leonard Davis School of Gerontology at the University of Southern California.