Maya Angelou To Be Honored By The American Women Quarters Program
Astronaut Dr. Sally Ride will also be celebrated.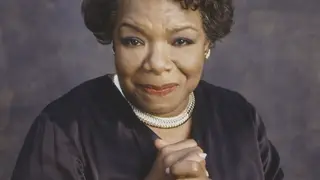 These are just the first of 20 women who will be celebrated by The United States Mint, which was created by Congress in 1792. Starting in 2022, the women will be printed on the "tails" side of the coin for four years.
See the Angelou coin below: 
In a statement, U.S. Rep. Barbara Lee said that "for too long, many of the women who have contributed to our country's history have gone unrecognized, especially women of color."
She also said Angelou and Ride "paved the way for many who came after them and inspired young women to carry on their legacy."
The poet, author, professor, civil rights activist, dancer, recording artist and singer was one of America's most iconic and inspirational women in history. Born on April 4, 1928 in St. Louis, she emerged as a literary voice with the 1969 publication of I Know Why the Caged Bird Sings, the first in a series of autobiographical novels. Her life and literary work led to President Obama awarding her the Medal of Freedom in 2011, America's highest civilian honor. 
On May 28, 2014, the legend passed away at the age of 86 at her home in Winston-Salem, North Carolina.