Lenny Kravitz's New Diet May Make You Do a Double Take
Is this how he manages to look so fine? We investigate.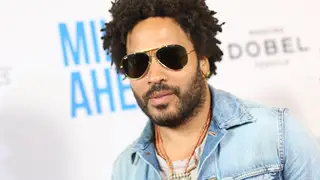 Rocker Lenny Kravitz has always looked like the picture of perfect health to us — or the perfect abs, at least. But it seems like Zoe's papa is trying to stay healthier with age with the help of a new diet: the raw food diet.
"100% raw for two months now. Amazing for one's health and the environment. #rawfood," he wrote.
Kravtiz isn't alone when repping for raw foods. Angela Bassett, Gwenyth Paltrow and Venus Williams are a few celebs that have reportedly dabbled in this diet, too. 
But what exactly is the raw food diet?
Also called "raw foodism," this way of eating consists of eating only uncooked and unprocessed foods. Translation: No heat! Under this diet you can eat fruits, vegetables, nuts, seeds, sprouted grains and unpasteurized dairy foods, raw eggs, meat and fish if you want to. 
Now this doesn't mean you can't warm it up a bit — as long as you keep it under 118 degrees, you're good. Oh, and you can use juicers, blenders and food processors if you want, too. But, following this diet means throwing deuces to pasta, sweets, junk food and most store-bought juices, drinks, milks and coffee.
Yeah, it's pretty strict.
According to WebMD, the philosophy behind this diet lies in the belief that heating our food kills its nutrients and natural enzymes, which we need to help fight chronic illness. Not to mention, some folks believe that adding heat makes our food toxic, although science has yet to prove this outside of charring meats.
Yes, you will lose weight, because raw foods are high in fiber and low in calories, but health experts warn that they can be hard on the digestive system, don't provide enough iron and protein and the food prep can be tedious.
But, there is something to be said about eating less meat and processed foods and more of a plant-based diet, regardless of if it's raw or cooked. It's great for weight loss, protecting you against chronic illnesses like diabetes and heart disease and it gives you energy.
Now, who doesn't want that?