Anonymous Donor Surprises Graduates At Texas HBCU Wiley College By Paying Off Their Student Debt
During commencement, students were told they owe nothing to the school, thanks to a benevolent stranger.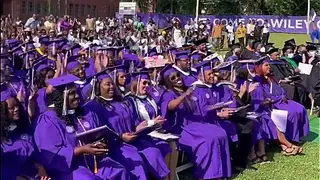 The 2022 graduates at Wiley College in Marshall, Texas got the surprise of a lifetime when it was announced an anonymous donor paid off their student debt.
On May 7, the HBCU posted a video of the graduation, which included more than 100 students. President Herman J. Felton, Jr. is seen saying, "You are debt-free. You do not owe the college a penny."
Wiley officials say that the school has tried to ease the financial burden on students by in the past reducing tuition, fees and room and board to $17,500. But the coronavirus pandemic and its economic fallout has made staying in school harder for students. Their collective debt totaled more than $300,000.
"Our commitment to our students goes beyond their time while they are enrolled. We are constantly communicating with donors to assist students in these ways so that they can begin their after-college experience with less debt," Felton said in a statement. "We are grateful for this anonymous donor who will assist the students in paying off their balances to Wiley College and help us achieve institutional goals of graduating our students with little to no debt."

Three years ago this month, billionaire Robert F. Smith made similar news after he pledged to eliminate the student debt for the Morehouse class of 2019. Smith also paid off the federal education debt for parents of the 2019 Morehouse graduates.