Smokey Robinson Describes Drug Habit That Spiraled Out Of Control
He says he lost so much weight he used safety pins to hold his pants up.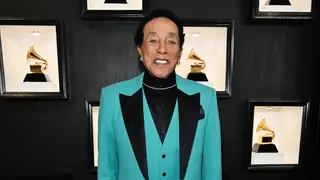 Smokey Robinson is opening up about his years-long battle with drug addiction.
The Motown legend, during a recent interview with VladTV, said that he almost never drank alcohol, but noted that initially cannabis was his "drug of choice." When asked by the interviewer if he ever added crack to his marijuana usage, the famed singer/songwriter clarified that it was cocaine that he would also use.
"Yes, it was cocaine. You know after I started doing it," Robinson candidly stated before describing himself as a "walking corpse" over a half-century ago.
"I got to that point where I was just walking around and uh, you know I'm 5'11 and I'm walking around and I weigh 120 pounds," he explained. "I don't have any belts or any pants or anything like that to fit me."
The 82-year-old also admitted that he used safety pins to hold his pants up and would hide it by letting his shirt hang down.
"I was in dire straits, it was ridiculous," Robinson added.
By the mid 1980s , Robinson noted that he had kicked his drug habit, but he revealed that he hated himself for being under those circumstances prior to that.
"My dad died, you know, my dad was my man," he continued, "then Marvin [Gaye] died, you know. It's just a lot of stuff was going on that was getting to me psychologically, which I didn't realize it was."
In 1986, Robinson said he overcame his cocaine habit after going to church and receiving prayer from a minister. "I walked into church that night I was a junkie. I was hooked on cocaine and weed, you know. I came out, I was free. That was it," he said.
Smokey Robinson is slated to release his upcoming album Gasms on April 28. He also won MusiCares' Person of the Year award during an GRAMMY Week event celebrating honorees' creative accomplishments and philanthropic work.
Watch the full VladTV interview segment with Smokey Robinson below: