Former Gov. Bill Richardson 'Cautiously Optimistic' Of Brittney Griner's Released This Year
The former U.N. ambassador coordinates his efforts with the White House.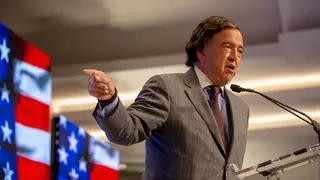 There's a possibility that Russia will release WNBA star Brittney Griner and fellow detained American Paul Whelen, according to former New Mexico Gov. Bill Richardson. Griner is serving a nine-year prison sentence for drug possession.
Richardson, who served as U.S. ambassador to the United Nations in the Clinton administration, told CNN's Jake Tapper Sunday on State of the Union that he's "cautiously optimistic" the two Americans will be released by the end of this year.
They have discussed the release of Griner and Whelen, a former U.S. Marine. Richardson added that he's working with the detainees' families and coordinating with the Biden administration's efforts to secure their release.
"I am cautiously optimistic," Richardson said about the progress of negotiations. "I got the sense that the Russian officials that I met with, that I've known over the years, are ready to talk."
Richardson noted that he doesn't represent the U.S. government.
"We coordinate, but not always agree on every tactical decision. But I'm not going to interfere in their process. I'm just giving you my assessment after two visits to Russia on behalf of American hostages," he clarified.
Meanwhile, a Russian court has scheduled an appeal hearing for Oct. 25. Griner's lawyer Alexander Boykov said the nine-year sentence was excessive, noting that the average jail time for this type of crime is five years, with nearly a third of those convicted released on parole. Griner's legal team also accused the court of ignoring evidence they presented.