This Weekend: Here's What to Watch, Listen to & Experience
Spend time off with ScHoolboy Q, Courtney Vance, and the Obamas.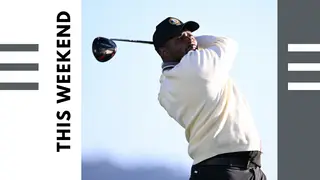 When it comes to content, it's easy for us to stick to what we know or want that old thing back. But for a rare few, being a true content connoisseur is about being on top of what's hot, what's trending, and what's next. Luckily, this new guide is everything for your music, literary, film, TV, and live experiences needs.
Each week, yours truly, Kevin L. Clark, will be your go-to advocate, spotlighting all those content cravings worth enjoying.
You're now tuned into This Weekend, a weekly round-up for content culture lovers and those who love to avoid FOMO.
For Friday, Apr. 8, this week's episode finds us with some freshly-discovered treasures for you, your family, and friends to get into + share with others. It contains a healthy dose of sonic vibes, this month's BET Amplified artist to know, and, of course, something streaming that's a feast for the eyes.
So bon appétit to all those true savants who are purveyors of content culture out there.
---
For Listeners Only:
Pusha T delivers some new work called "Neck & Wrist" that has a familiar feature on it. Produced by Pharrell Williams, the former Clipse member, and all-around MVP Dope Boy connects with the ultimate plug, Jay-Z, marking their first collaboration since 2016's "Drug Dealers Anonymous." The song, which is slated for King Push's new album, follows "Diet Coke," and is already being mentioned as one of the best rap songs of 2022. Open up your earholes and take a huge bump from this audio dope.
Despite the controversies and tweets, Ari Lennox is back and groovier than ever on "Blackberry Sap," a standout offering from D-Day: A Gangsta Grillz Mixtape. The Dreamville collective team up with Grammy Award-winner DJ Drama for an erotic romp in the sonic sheets with the Washington, D.C. native singer-songwriter. On the J White-produced number, Lennox delivers another baby-making track that will have music lovers wishing that those comments about her retiring from the music industry are only but a pipe dream.
ScHoolboy Q is back and sounds rejuvenated over his first single since 2019 called "Soccer Dad." The standout member of Top Dawg Entertainment has not released anything since Crash Talk, but that hasn't stopped hip hop's favorite #GirlDad from being in the mix. Co-produced by Fu, Skyehutch, and TaeBeast, "Soccer Dad," Groovy Q reflects on the life he's made for himself, the influence of his TDE crew, and celebrates his comfortable view from the soccer field stands as a father. It's a nice change of pace to hear optimism from someone whose music thrives in darkness. A refreshing leap, to say the least, music lovers and rap fans should take the leap to enjoy ScHoolboy Q's return to the game.

Special Mentions: There is also some exceptionally dope work from the likes of Rexx Life Raj feat. Larry June ("Jerry Curl"), BIA feat. J. Cole ("LONDON"), AUGUST 08 ("500 Days"), and Chlöe ("Treat Me") that you cannot afford to miss.
Watch The Streams:
Michael Bay follows up his foray into the Netflix streaming arena with Ambulance, a thriller that stars Jake Gyllenhaal and Yahya Abdul-Mateen II. In the film, they play a pair of adoptive brothers who engage in a heist that has gone completely wrong inside of an ambulance. Full of thrills, spills, and car chases that have made Michael Bay a legend, this remake of a 2005 film from Denmark is one to add to your queue if you're in for this weekend.
The incomparable Courtney B. Vance makes his dramatic return to television in 61st Street. From executive producer Michael B. Jordan, the Peter Moffat-created legal drama is set in Chicago and follows Tosin Cole (The Souvenir) and Vance as, respectively, a high school athlete and his lawyer fighting a case involving a dead police officer — and a police force bent on revenge. This is a special one as 61st Street will be one that should push a lot of buttons.
Adapted from a novel by Olen Steinhauer, All the Old Knives is a modern-day espionage thriller that stars Chris Pine as a former CIA intelligence officer who must investigate his former flame, Celia (Thandiwe Newton), who is now under suspicion of having been a double agent. The questions and answers get heightened through flashbacks as All the Old Knives weaves together multiple times to expose the truth behind a devastating terrorist attack. Jonathan Pryce and Laurence Fishburne round out the cast. Watch it with friends over the weekend.
BET Amplified Artist of the Month Spotlight:
It is This Weekend's pleasure to announce BabyFace Ray as the BET Amplified Artist for April! The Detroit-based rapper has achieved national acclaim after releasing multiple, successful mixtape releases. Unf**kwitable, marked by his slice-of-life lyrics and guest features from EST Gee, Kash Doll, Wiz Khalifa, and Pusha T.

#TeamEastside is representing the right way as songs like "What The Business Is," "Champions," and "It Ain't My Fault," celebrated his Motor City ties, nonchalant, laid back style, and his prolific output. As this month's BET Amplified Artist, be sure to keep an eye out for an exclusive interview with the artist and learn why the Billboard charting artist has big plans for his first decade of dominance.
Live at the Experience:
H-Town, Houston, Texas, stand up! The Museum of Fine Arts is the next stop on The Obama Portraits Tour. Artists Kehinde Wiley and Amy Sherald's portraits of President Barack Obama and First Lady Michelle Obama are available for viewing from Apr. 3 through to May 30. If you haven't had a chance to see this testament to living Black history, then put on your Sunday's best, grab your family and friends, and enjoy an afternoon with the Obamas (with a healthy plate of food from Café Leonelli).
You can cop general admission tickets here.
---
Check back to BET.com and BET Digital for more weekly installments of This Weekend.
Kevin L. Clark is a screenwriter and entertainment director for BET Digital, who covers the intersection of music, film, pop culture, and social justice. Follow him on @KevitoClark.