A Compilation of Jeffree Star's Racist Behavior That Will Make You Cringe
And why it's not necessary to defend him.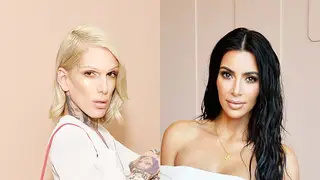 No one could have imagined that the simple act of swatching would brew discord concerning race relations — but this past Monday, that's exactly what it did. Swatching is an innocuous and apolitical action in which one displays makeup products on one's arm in order to provide better insight into what that particular product may look like on actual human skin rather than in a tube. Sounds helpful and convenient! So where did things go off the rails? It began when Kimberly Noel Kardashian West, a relative novice in the beauty sphere (save for her foray into the fragrance world), displayed swatches of KKW Beauty's powder contour kit on Snapchat. Jeffree Star, longtime cosmetician and part-time troll, weighed in on Twitter, deeming the swatches "chalky" and "rough." Things from there, as they say, escalated quickly. 
Kim's stans then came for Jeffree, which prompted Kim, as her breasts were being powdered, to urge people to forget Star's "negative" (read: racist) past and "let him live," citing that he had since apologized for his past behaviors. By the next morning, amid strong criticism that Kim had done goofed, she changed her position, saying that it wasn't her place to tell POCs how to feel, because she isn't one. In the wake of last weekend's brutal and disturbing events, it's clear that bigotry is more apparent than ever, as we saw how hateful sentiments led to the death of Heather Heyer and the brutal assault of Deandre Harris. Words do matter. Though Star has apologized for his comments, many question the sincerity of his backtracking since he still exhibited racist tendencies following the apology. He was an adult throughout all of his bigoted behavior, which makes the apology harder to accept, as he was old enough to know his words could have consequences, such as a "comedy" bit in which he jokes about throwing battery acid in a Black woman's face (in a video that has now been deleted).
Below are some of the horrific things Star has said – and precisely why you shouldn't feel compelled to defend him.
"I win by having diamond rims, and you win by being a poor Mexican."

"Shut up, you fucking n***** bitch!"

Once asked someone, "Will you beat that n***** up for me?"

"You stupid ape."

Once screamed at a woman, "She's a fucking n*****! You're a n*****, you fucking ugly-ass bitch! Fuck you, ho!"

Once screamed at a woman, "She's a fat, ugly bitch, you stupid cunt!"

"Bitch, I'll kill you like Anna Nicole, you fucking skank bitch."