Snoop Dogg Signs to Pharrell's I Am Other Label
Longtime collaborators join forces with new deal.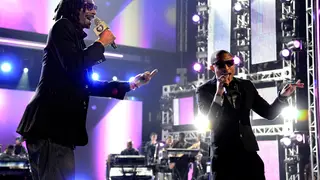 From "Drop It Like It's Hot" to "Beautiful," Snoop and Pharrell have a long history of making hits together. It looks like they are trying to make magic happen again with their latest move. According to Billboard, Snoop Dogg has signed to the Virginia-bred producer-slash-singer's I Am Other label and will release his next album via Columbia Records. The entire album will be produced by Pharrell and confirmed guest appearances include the likes of Charlie Wilson and Stevie Wonder.
It's not the first time Snoop has aligned himself with a super producer. His debut solo album, 1993's classic-that's-still-in-rotation Doggystyle was produced by Dr. Dre. In fact, Snoop's first major appearance on wax was Dr. Dre's "Deep Cover" and the world got familiar with the Long Beach MC on Dre's The Chronic. Past albums have seen him signed with Death Row and No Limit, among other labels.
This will be Snoop's first album since 2013's Reincarnated, which was released under his reggae influenced monikier Snoop Lion.
BET.com is your #1 source for Black celebrity news, photos, exclusive videos and all the latest in the world of hip hop and R&B music.