Twitter Rallies To Have Danai Gurira's Name Listed On The 'Avengers: Endgame' Poster, And Marvel Responds
The actress was featured in the artwork but was the only one whose name was left out.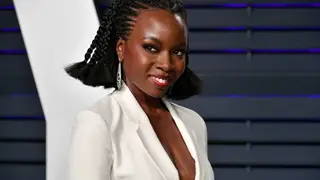 Marvel recently caught some major heat after they released the poster for their forthcoming Avengers: Endgame film to the disappointment of fans who pointed out that Danai Gurira's name was left out of the listed cast credits.
As her character was the only one featured but not mentioned — the actress plays Okoye in the Marvel Universe — fans were bothered to see the blatant slight.
Well, Twitter outrage can sometimes be used for good. After the backlash, Marvel quickly rectified the issue, tweeting out, "She should have been up there all this time," along with a revised poster with her name included.
The moment Marvel fans have been long awaiting has finally arrived as the official trailer and accompanying poster for Avengers: Endgame was just released.
Upon seeing the artwork, however, the project began trending for reasons the company likely did not expect as fans immediately pointed out that Danai Gurira, who was pictured in the poster, was left out of the cast credits listed at the very top.
Of the 13 actors featured, Gurira, who will reprise her role as Okoye in Endgame, was the only one ignored. As fans would recall, her character was one of the few surviving heroes from Thanos' decimation, and due to this, she will likely have an active role in the forthcoming film.
Thus, her being pictured and listed in the credits seemed to be a given. However, when fans noticed that she was slighted and not given the same recognition as her cast mates — even Bradley Cooper, who voices a raccoon, was named — they all rallied to have the problem rectified.
Take a look at the poster that has the internet up in arms, below:
Below are a few of the outpouring reactions from fans who stress that one of the most dynamic and beloved women in the Marvel Cinematic Universe be properly and equally recognized for her work.

Avengers: Endgame hits theaters on April 26, 2019.