Dapper Dan: The Man Behind Some Of Hip Hop's Hottest Looks—See His Most Iconic Designs On Your Favorite Stars!
The Harlem-born designer is a living legend!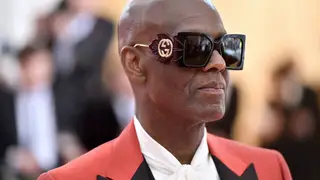 At BET, we are privileged to celebrate our Blackness every day. In honor of Black History Month, we are pulling out extra confetti as we profile some of the most influential Black people in the fashion and beauty industries—especially if their accomplishments and contributions are overlooked by mainstream society. Cheers to our icons!
Dapper Dan is a living legend. Known as the man behind some of the most memorable looks worn in the music industry, the Harlem-born designer has undoubtedly paved the way for many fashion houses in their search to appeal to trendsetting hip hop artists.
In fact, Dapper Dan's creative influence in the 1980s has often been recreated—and in some cases unjustly copied—by some of the world's most luxe fashion brands. Today, the 76-year-old fashion innovator and pioneer in the luxury streetwear space continues to build on his legacy via his Harlem atelier in collaboration with Gucci.
Below, see some of his most iconic looks worn throughout the years by your favorite celebs! 
Salt-N-Pepa (1988)

Roxanne Shanté (1989)

Tracee Ellis Ross (2018)

Beyoncé (2018)

Lil' Kim (2019)

DaBaby (2019)

Megan Thee Stallion (2019)

2 Chainz (2019)

Rick Ross (2019)

Omari Hardwick, Dapper Dan and 21 Savage (2019)

That Girl Lay Lay (2020)

Saweetie & Doja Cat (2021)