Cleveland Browns' Myles Garrett Released From Hospital Following Car Crash
The Pro Bowl defender reportedly sustained "non-life-threatening injuries."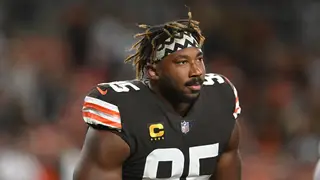 Cleveland Browns defensive end Myles Garrett has reportedly been released from the hospital after being involved in a car crash in a town around 40 miles south of Cleveland.
According to CNN, on Monday (September 26), the Pro Bowl defender and a passenger were transported to a nearby hospital with what are being described as "non-life-threatening injuries."
Ohio State Highway Patrol Sergeant Ray Santiago said that just before 3 p.m. troopers responded to a report of a rollover crash and injury. "When troopers arrived on scene, they discovered a gray Porsche 911 Turbo S off the right side of the roadway with rollover damage," he noted.
On Tuesday, the Browns said Garrett sustained a shoulder strain and a biceps strain in addition to minor lacerations, bruises, and bumps. His status for Sunday's game against the Atlanta Falcons is currently unknown, however, the 26-year-old former #1 overall draft pick did clear the NFL's concussion protocol.
"Currently, our focus is on providing Myles the medical care needed for him to return to football activity," Andrew Berry, Browns executive vice president and general manager, said, according to CNN. "Although we hope to have him back soon, his availability for Sunday's game in Atlanta will be evaluated by team doctors throughout the week."
According to ESPN, the crash is under investigation but highway patrol said drugs or alcohol do not appear to be involved. Additionally, Garrett and the woman were wearing seat belts.