A Love Story Excerpt From NY Times Best Seller 'The Autobiography Of Gucci Mane'
In his very own words, here is how Gucci fell in love with his beloved Jamaican queen Keyshia Ka'oir.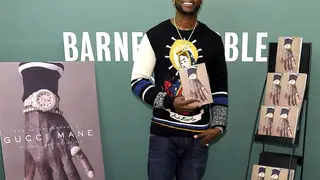 If you haven't read or bought a copy of Gucci Mane's new book The Autobiography of Gucci Mane, then you're surely missing out. Gucci's memoir, which released on September 19, 2017, landed at No. 4 on the New York Times hardcover non-fiction list and No. 4 on the combined print and e-book nonfiction list. If you have yet to read up on his journey, no worries, BET's got you covered with one of our favorite excerpts from the book. Take a more intimate look into Gucci's life and learn more about what has kept him in the game as one of the hottest rappers out. In his very own words, learn just how Gucci fell hard for his beloved wife, Keyshia Ka'oir. We promise you'll want to read more. 
(Chapter 16, pages 174-177)
Back in March [2010], while I was still locked up, my team released a mixtape called Burrrprint (2) for sale on iTunes, made up mostly of songs I'd made with Drumma Boy prior to getting locked up. That project sold like twenty thousand copies in its first week with little promotion, and a few of the joints off it had taken off. So I'd made sure Boomtown was ready to shoot videos as soon as I got home. We had five on deck. I already had the perfect video vixen lined up.
Keyshia Dior. I'd first seen her in Timbaland and Drake's "Say Something" video not long after I went back to Fulton County. Then I came across her again in XXL's Eye Candy. She was the new chick in the industry and I had to meet her. I had my assistant Amina book her as soon as we locked in the dates with Boomtown.
The first video we shot was for "Everybody Lookin." The next day I had a photo shoot for Rolling Stone and then another video for "Boy from the Block." Keyshia wasn't scheduled to show up until the next day. We were going to shoot a video for "911 Emergency" at Club Life, but I caught word that she had gotten into town a day early. So I told Amina to bring her out to the set of "Boy from the Block."
The magazine photos didn't do her justice.
"You're gorgeous," I told her. There was no playing it cool. "Thanks." She laughed. I must not have been the first one to tell her that.
I told Keyshia to stick around after we finished shooting "Boy from the Block" but she turned me down, telling me she'd see me the next day for our scheduled shoot. That only made me want her more.
We had such a good time on the set of "911 Emergency" the next day. Amina had hired a whole gang of models for that video but I made sure Keyshia knew she was my leading lady, that she had everything she needed in her dressing room, that she felt comfortable and taken care of. I wanted her to feel good about coming out here.
After we wrapped up I practically begged her to stay an extra night in Atlanta so I could take her to dinner. I'd done nothing but work since I got out of jail and this seemed like a break worth taking. She agreed.
Keyshia and I went to dinner at the InterContinental Hotel in Buckhead. We were still wearing our all-white matching outfits from the shoot. We ordered the same thing, salmon with mashed potatoes. I took her hand as we left the restaurant. The whole situation was out of character for me. I knew she was special.
Keyshia was stunning but it was more than that. I'd been with a lot of pretty girls. There was more to her. I may have first fell for her beauty, ogling her pictures while I was sitting in the clink, but I quickly began to appreciate her as a person.
Keyshia was from Jamaica. When she was ten her father was killed, and after that her mother moved her and her brothers out of the country. They spent a year in Canada before settling down in Miami.
After high school she enrolled in nursing college, following in the footsteps of her mother, a nurse practitioner. But Keyshia wasn't meant to be wearing scrubs. This was a girl who'd been voted best dressed in her class every year in high school. Her passion in life was clothes, makeup, and hair. Fashion and beauty. So she dropped out and enrolled in cosmetology school with a dream of becoming a stylist to the stars.
On a chance encounter Keyshia had gotten cast in that "Say Something" video and became something of a star herself. The girl was a fox with a look all her own. The chick with the Mohawk and blue lipstick.
She hadn't let the sudden success get the better of her. From the modeling jobs and paid appearances at nightclubs Keyshia had made herself some money in a few short months, but she'd saved it, she told me. She wanted to launch a line of cosmetics — lipstick, lip gloss, eye shadow, s**t like that. As I watched her talk about her vision I could tell this wasn't somebody flapping her gums. This was someone who when she set out to do something, she did it.
We'd both been through a lot. A few years after the death of her father, one of her brothers got killed in an incident where a gun misfired. But Keyshia was like me. She was resilient. She was a survivor. I was so drawn to that.
We had our differences. Keyshia was not much of a partier and definitely didn't do drugs. She said she hardly even went out unless she was getting paid for an appearance. So I downplayed my vices. I'd already thought about what she may have heard about me or read online, so I didn't need to add any concerns. Plus I'd just gotten out of jail, so besides smoking weed I really hadn't done much partying or drugging of late.
We fell hard and fast for each other. Keyshia went home to Miami the next day but soon I asked her to join me on the road as I did my best to keep up with a grueling schedule of shows, media, and studio sessions. I was really into Keyshia but I was also very preoccupied with my career. I'd never been busier.
Just like that, the rest was history! Seven years later, Gucci Mane and Keyshia Ka'oir tied the knot on Gucci's favorite date, 10/17/2017. Gucci's book The Autobiography of Gucci Mane is online and in stores now, retailing for $12.99 at Barnes & Noble. Be sure to go cop that!