Rapper C-Knight Dead At 52
The West Coast rap pioneer and Dove Shack member was reportedly taken off life support.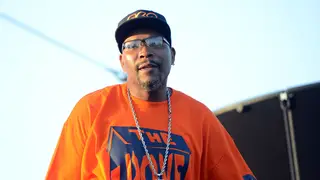 C-Knight, a member of Dove Shack and West Coast hip-hop pioneer, has reportedly died after being taken off life support. He was 52.
TMZ was the first to report the passing of Knight (born Arnez Blount). Fellow Dove Shack member Bo Roc later confirmed his death. In an Instagram post, he described how devastating the loss is.
"This is like f*****g nightmare I swear this s**t hurt different and I don't want to talk about s**t to nobody so please just let me be and pray for us," Roc captioned the post. "On my soul I love you bro and I already don't know what the f**k to do wit u being gone."
As we previously reported, C-Knight was hospitalized on October 18 due to complications from diabetes. Subsequently, his heart stopped after suffering a stroke before being resuscitated and placed on life support. The emcee's father told TMZ his family was optimistically awaiting the results of an MRI that would show any notable brain activity. Tragically, his condition only worsened.
Dove Shack's most memorable hit was "Summertime in the LBC," which appeared on both their debut album, This Is The Shack, and the soundtrack to The Show. A year earlier, they debuted as a group on Warren G's album Regulate… G Funk Era in 1994. The group reunited for a project in 2006, while C-Knight released his solo album, Knight Time, in 2001.