The Internet Has Thoughts About Jaheim's New Hairstyle, but He's Not Having It
The clapback is strong.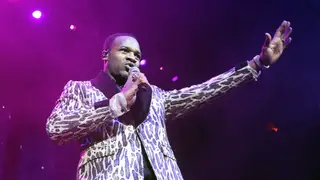 It seems like celebrities and their, let's say, "creative" hairdos have become the top new subject of ridicule. Whether it be Yung Joc or the Weeknd, people drastically changing their look up top can get you praise or in a lot of trouble.
The latter was true for soul singer Jaheim. After his new and wavy hairstyle hit the internets people began a shade fest in its name.
"Look at this damn temptation/5 beat/o'jays lookin a** !!!," a Baller Alert commenter said of Jaheim's new look. "Boy look like Jamie fox on amazing Spider-Man," someone else remarked.
Well, Jaheim was paying attention and explained himself immediately. "This is nothing new When my hair was long I styled in this fashion," he tweeted. "Jaheim is comfortable in his skin I am who I am A natural born." He then took to Instagram and called out all the haters.
"I can't win arguing with stupid a**, ignorant a** m*****f*****s," he said via a video of himself (interestingly with a durag on). "I don't do what I do to please you, I do it for me. I feel good about it. I like it. It's me."
It didn't end there though. Charlamagne tha God made Jaheim his "Donkey of the Day" and it didn't go over well with him. He made numerous posts on both social media sites including threats like, "I'ma give you a donkey right on yo eye p***y it's on sight," and "I'ma beat yo a** for all the real n****s that wanna piece of you."
Finally, Jaheim ended on a more positive but still defensive note with the message, "To many men/women be on twitter talking about my hair and they kids out here looking like what the f**k his daddy doing tho," he wrote on Twitter.
Check out everything that went down with Jaheim and his new hairstyle below.