Meagan Good Sets The Record Straight On Claims She's Had A BBL
"I worked for that," said the actor.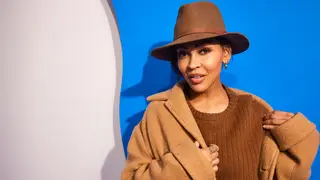 Meagan Good is all-natural. Just ask her yourself.
On Monday (Nov. 13), the actor broke the internet when she posted an Instagram reel of her flaunting her curves and melanated skin on a beach. But, the actress set the record straight and addressed a comment made by a user on the platform who suggested she paid for her body, per Page Six.
When a user posted that her "new BBL" was "looking 🔥," Good fired back.
"Nah homie. That's a 42-year-old petite 'I worked for that' gym booty," the "Harlem" star said.
We know that's right Meagan!
Despite critics, there's no question that Good looks like a goddess in the reel that has racked up almost 3 million views.
The actress can be seen sporting a yellow snakeskin thong bikini that shows off her core. She also rocked flowy locs by Bagoddess and a pair of sunglasses.
In the frames, she is captured striking fun poses in the water and next to a massive rock.
While there were some negative statements, others also brought some positive energy.
Halle Bailey posted a trio of heart-faced emojis, while "Chicago Fire" alum Yaya DaCosta chimed in "GORGEOUS 😍🔥😍🔥😍🔥."
This is not the first time Good has brought the internet to its knees. Over the summer, she posted a reel featuring her modeling a series of outfits, including a rust-brown ensemble that had the power to stop traffic. She finished that look off with her signature short pixie cut.