How A Father's Tragedy Moved Him To Launch A Black Maternal Health Movement
Bruce McIntyre advocates to end the systemic racism behind the disproportionate deaths of Black mothers-to-be.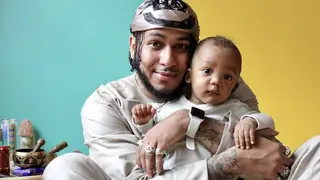 In the fall of 2019, Amber Rose Isaac and Bruce McIntyre III saw a bright future ahead with endless possibilities. Isaac was just a few credits away from earning her master's degree, and McIntyre was working on Wall Street in New York. What brought them the most joy was that the couple was pregnant and expecting their first child together in the spring.
But the couple's pregnancy turned tragic. Amid the COVID-19 lockdown in New York City, Isaac, 26, had been experiencing dizziness and extreme fatigue. Despite repeated complaints, her doctor offered only telehealth appointments.
The couple decided to seek prenatal care from a midwife who discovered that Isaac had a condition involving her blood platelet count that needed immediate medical attention. Tragically, Isaac died during an unscheduled emergency cesarean section on April 20, 2020 while giving birth to the couple's son, Elias, leaving McIntyre as a single father.
Unfortunately, Isaac's story is all too common. Black women are three times more likely than white women to die from a pregnancy-related cause, according to the Centers for Disease Control and Prevention. The CDC blames a multiple factor for the disparity, including  underlying chronic conditions and the quality of health care available to Black women – as well as "structural racism and implicit bias."
McIntyre told BET.com that it was the "injustice" of how the health care system mistreated Isaac that drove him to launch the SaveARose Foundation, a nonprofit working to eliminate systemic flaws within maternal care.
He has become an advocate for eliminating racial bias in the maternal care system. His activism has taken him to Washington, D.C., where he has testified before Congress and has received support from Vice President Kamala Harris who tweeted her condolences after Isaac's death. McIntyre also lectures to medical students about the issue of racial bias among physicians – a systemic problem that the American Medical Association has documented.
BET.com sat down with McIntyre to discuss how he turned his heartbreaking loss into an advocacy movement to prevent other families from experiencing a similar devastating loss.
BET.com: Tell us a little about how you and Amber met and your life together.
Bruce McIntyre III: Amber and I met in 2011 through mutual friends. We lived in the same neighborhood for a very long time. We kept in touch through social media because I was moving back and forth between the Bronx and North Carolina in my teenage years.
She was someone who was goal oriented, very career driven. Amber was so focused on school that she was not trying to get into relationships. So we just remained friends. I remember trying to holler at her one time. And she turned me down because she was just so focused on college.
But in 2018, she reached out and invited me to her college graduation. We rekindled and everything was going well for us. We thought we had a bright future ahead. Our families loved us together, and Amber and I moved in together while she was working on her master's degree in business development.
September 27,  2019 is when we found out that she was pregnant. She ran into our bedroom and started jumping on the bed, waking me up and telling me that we're pregnant. Within two minutes, she was shopping on Amazon and buying baby things. It was a very exciting time for us.
BET.com: What was the driving force that led you to create SaveARose?
McIntyre: It was just seeing the injustice of what happened to Amber, seeing how she was being neglected. I realized that this was happening to other Black women and families just like mine. I put the pieces of the puzzle together and came up with innovative ideas on a more holistic approach. I just knew that I had to take action and came up with the idea of SaveARose Foundation. Our main goal has been to combat and dismantle the systemic flaws within the medical system and redirect the course of birth equity towards better birth solutions.
BET.com: Whas has been SaveARose Foundation's biggest accomplishment so far?
McIntyre: I think the biggest accomplishment has been getting the statistics out concerning
maternal mortality. So I think the advocacy work has been the biggest piece, making everyone aware, and of course, bringing equity to underserved areas as well as bringing community collaborators together.
Another big accomplishment has been sharing Amber's story, which resonates with many other women. I've had to be vulnerable and let my guard down, realizing the power that has to motivate other people to do the same.
BET.com: What concrete results have you seen from your advocacy with elected officials?
McIntyre: We met with Mayor [Eric] Adams on doula sponsorship and helped to create a doulas program in New York City. And then, of course, there's the Black Maternal Health Momnibus Act in Congress that Representative Lauren Underwood is trying to push through, which I think is the biggest bill that we're trying to pass.
Sometimes progress does feel a bit stagnant, even though a lot of people know the issues.
BET.com: What's been the medical community's response to your advocacy?
McIntyre: It's been amazing. Amber's story puts a face to it. I feel like a lot of OB-GYN residents and tenured OB-GYNs have become desensitized in part to how they're trained. So being able to catch them early and telling Amber's story –  humanizing Amber–  helps them to realize that we're not just statistics, we're not just numbers, we're not just write-offs.
A lot of them will come up to me crying and saying that they're sorry or that they're going to come into this field wanting to do better for people.
BET.com: What advice do you have for women and their partners about having a safe birth?
McIntyre: Pay attention, especially for the fathers who want to show up in support of their partner. Pay attention to the terminology that's being used, how they're being treated. Advocate for her and make sure she's being heard.
I tell people all the time, if your doctor isn't answering the call then stand in front of their doctor's office for as long as they need to until they're seen because it's very important. A lot of issues are brushed off or underlying issues are not paid attention to.
Get a second or third opinion and speak to a midwife and a doula, which is very important if you're a Black woman in America.

See more about maternal mortality and African Americans in a new one-hour episode of "America in Black" airing July 2 and available across BET and CBS' platforms, including BET+ (July 6) and the CBS News Streaming Network. The show will premiere on the BET YouTube page on July 2.