OPINION: It's Black Maternal Health Week And It Matters For A Good Reason
The statistics are point to some serious challenges in reproductive health, but it's not too late to make changes.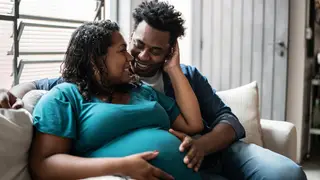 There are so many things happening across our nation right now and I want to talk about all of it.
I want to celebrate our American economy adding 311,000 jobs in February, the Wisconsin Supreme Court and the dramatic victory of Judge Janet Protasiewicz, President Joe Biden stepping up in the fight against antisemitism and the White House investing $14 billion in new clean energy projects.
I want to talk about Disney sidestepping Florida Gov. Ron DeSantis' ongoing culture wars and I want to wade into the first indictment of a former American president.
I want to talk about all of this and more…but I can't.
I can't because, across our nation, pregnant women and new moms are dying at an incredible rate. I can't because America's maternal mortality rate jumped 89 percent from 2018 to 2021 and, as dangerous as that is, it's even worse for Black women who are three times more likely to die in pregnancy than White.
That's not hyperbole. That's reality.
In fact, driven by historic and systemic racism, the United States is the only industrialized nation in the world where Black maternal health is getting worse, according to figures from the Centers For Disease Control and Prevention (CDC). In fact, reports of severe premature labor and pain, often symptoms of serious complications like preeclampsia, are routinely ignored in Black women who are referred for specialty care far less frequently than white women often leading to deadly consequences.
In 2018, half of all American counties lacked a single OB-GYN. Take the fundamental disparity in accessible and affordable healthcare and add the underlying chronic health conditions that have plagued Black communities for generations, undeniable structural racism and a dash of implicit bias and you'll see it for yourself.
But it doesn't have to be that way. In fact, the CDC tells us that more than 80 percent of pregnancy-related deaths in the United States are preventable.
So we're not helpless. We can stop the dying today.
Then why is the problem getting worse?
Maybe it's because of simple ignorance. Maybe it's because Americans just don't know the scope of the problem. Maybe it's because we just haven't taken it seriously enough. Maybe it's because the divisive rhetoric of right-wing extremists have us so distracted by culture wars and political sideshows that we can't see a real crisis even when it's staring us in the face. Maybe it's just racism.
Because it seems to me that maternal mortality in general and Black maternal mortality in particular shouldn't be particularly divisive. I mean, at the end of the day, we're talking about protecting the lives of America's mothers and mothers to be. Is anyone really against that?
I know that Democratic leaders like President Biden and Vice President Harris have made it a real priority by expanding Medicaid's postpartum coverage to 12 months, supporting the Maternal CARE Act, highlighting Illinois Rep. Lauren Underwood's Black Maternal Health Momnibus Act and proposing a $3 billion investment in maternal health though the Build Back Better Act.
But where are the Republicans?
I mean I've heard the stump speeches praising "traditional family values" and I've seen the fundraising emails calling all good Republicans to fight for the "sanctity of life" by clicking the "donate here" link. So this should be a no-brainer, right?
But now that I think about it, those emails don't talk about how United States District Court Judge Reed O'Connor put the lives of 3.6 million pregnant women and their unborn children at risk when he took away free screenings for preeclampsia and gestational diabetes along with counseling for perinatal and postpartum depression.
They're not suggesting that these lives aren't sacred, are they?
They're not playing politics with these women's lives, are they? Because this isn't a game.
Pregnant women are in the firing line and, while the shooters get one bullet when the woman is White, they get three when she's black.
What would you do to stop them pulling the trigger? What if it was your mother, your wife, your daughter…or you.
Black Maternal Health Week is recognized each year from April 11-17 to bring attention to improving Black maternal health. This year, let's not just talk about it. Let's take action. Because it's time to tell the right-wing that all life is sacred.
This isn't a game. This is our mothers, our daughters, our wives and our sisters. Their lives matter too.
We can argue about politics later. Let's get this done now.

Antjuan Seawright is a Democratic political strategist, founder and CEO of Blueprint Strategy LLC, and a CBS News political contributor. Follow him on Twitter @antjuansea.