Shaq Credits His Mom For His 'Classy' Comeback After Kanye West Came For Him On Twitter
The NBA superstar and the rapper recently got into it on social media.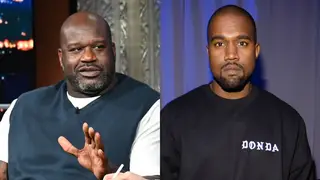 Shaquille O'Neal is explaining why he chose to keep it "classy" on social media after he found himself in a Twitter spat with Kanye West, who now goes by Ye.
Ye made major headlines and been dropped by several brands for his antisemitism comments, the entertainer criticized the NBA Hall of Famer's business ventures with Canadian billionaire Jamie Salter and suggested on his Twitter that O'Neal was being deceived.
To which the 50-year-old responded:
"Believe me you don't know me like that. Worry about your business, and to quote the once great Kanye west " I got more money than you, so why would i listen to you"  take my advice get your family business in order. Have a great day brother."
O'Neal shared with PEOPLE that he credits his brief response to his mother.
"If I make a statement, I have the ability to travel through time and watch my mom as she watches it on TV," he says. "So I don't say [what I really want to say] because she'd get upset. She'd say, 'Baby, stop it.' "
And when it comes to social media feuds, O'Neal doesn't mind a little back and forth but acknowledges that there is a limit to where he draws the line.
"I like to play," he says. "But if it ever gets personal, I'm coming to see you. I don't do the little kid games. The fact that [West] messed his whole life up — he did it. Nobody else did it. These narcissistic people, when they mess up it's everybody else's fault."
In other news, O'Neal's four-part docu series SHAQ premieres on HBO on Wednesday (Nov. 23) at 9 pm ET. The documentary chronicles the former NBA superstar's career, life off the court, his military upbringing to his personal relationship and his success after once dominating professional basketball with four NBA championships.