10 Essential LGBTQIA+ Songs To Celebrate Pride Month
From old school to new school, we've got you covered.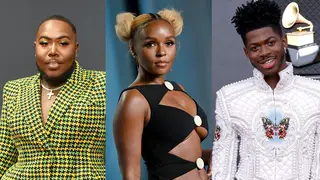 Whether you're part of the LGBTQ+ community or a proud ally, join us in embracing the power of music and celebrating love, identity, and pride. Let these ten songs be a soundtrack to your joy, reminding you that love knows no boundaries and that together, we can create a world that cherishes the beauty of diversity. 
From iconic queer artists to supporters who have lent their voices to the cause, this playlist has a blend of genres, eras, and voices that have shaped the LGBTQ+ movement. Let the celebration begin!
"Lipstick Lover" By Janelle Monáe

This ode to queer love dropped last month and blew up social media. "Lipstick Lover" is an expression of sexuality, just in time for LGBTQ+ Pride Month. 

"Booty" by Saucy Santana

Who else throws it back like this? The one and only Saucy Santana!

"MONTERO (Call Me By Your Name)" By Lil Nas X

Lili Nas X's 2021 No. 1 hit was unapologetically Black and gay. A must for any LGBTQ playlist.

"Throw That Boy P***y" by Fly Young Red

This track by Fly Young Red nearly broke the internet in 2013. The song included samples from Lil Wayne and Trina's "Wowzers" and featured a video with guys twerking. 

"Free Xone" By Janet Jackson

In 1998, this deep cut from Janet Jackson's Velvet Rope called out homophobia and encouraged people to "get free."

"Pull Up To My Bumper" By Grace Jones

This 1981 song was a huge hit in the queer clubs of the time and eventually crossed over. However, the Grace Jones banger remains a staple for any LGBTQ playlist.

"The Ha Dance" by Masters At Work

If you've seen clips of the dance form  voguing, more than likely you've heard a version of "The Ha Dance" by Masters at Work. It is a favorite for house DJs,  but this is the 1991 original. Interesting note -- the song includes a sample from the 1983 Eddie Murphy film Trading Places. 

"I'm Coming Out" By Diana Ross

Diana Ross landed an anthem for the LGBTQ+ community with this 1980 track penned and produced by Chic members Nile Rodgers and Bernard Edwards.

"You Make Me Feel (Mighty Real)" by Sylvester

"You Make Me Feel (Mighty Real)" was ahead of its time for 1978. Sylvester definitely paved the way for the queer artists of today.

"Born This Way" by Carl Bean

Years before Lady Gaga sang "Born This Way," Motown artist dropped Carl Bean his hit single "Born This Way" in 1977. As an openly gay artist in 1970s, the song was ahead of its time and so was Carl Bean.