U.S. Supreme Court Petitioned to Hear High School Admissions Case On Heels Of Recent Affirmative Action Case
The suit cites enrollment for Black and Hispanic students has increased, while enrollment for Asian-American students as declined nearly 20% in three years.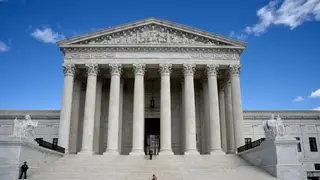 The U.S. Supreme Court is being asked to weigh in on a high school admissions policy that parents believe is discriminatory.
On Monday (August 21), a group called Coalition for TJ, which includes Asian Americans filed a petition seeking the court to decide if Alexandria, Va., charter school Thomas Jefferson High School for Science and Technology (TJHSST) utilizes racially biased strategies during its admissions process, as reported by Reuters.
This comes on the heels of the court's controversial conclusion that Harvard University's practice of affirmative action was unconstitutional, which ceased the use of all race-conscious admissions programs across the country. Legal counsel for the parents said the reversal of affirmative action "might mean little if schools could accomplish the same discriminatory result through race-neutral proxies."
The high school – which ranks among the best U.S. public high schools– uses a policy adopted in 2020 by Virginia's Fairfax County School Board that is race neutral. Of their current admissions policy, the school does not use standardized tests, has placed a cap on the number of students allotted from each middle school in its district, and guarantees enrollment for top students in each.
Since the adoption of this new policy, Black and Hispanic student enrollment has increased, while Asian-American student enrollment has decreased nearly 20%.
As a result, the parents' pack filed a suit claiming that the policy is racially charged and violates the 14th Amendment for equal protection. In February 2022, U.S. District Judge Claude Hilton backed the parents' group lawyers at the libertarian Pacific Legal Foundation, Reuters reported.
But the school's admission's policy was upheld in May by the Richmond-based 4th U.S. Circuit Court of Appeals, by declaring the board had no intentions of discriminatory actions against Asian-Americans and had a valid interest in "expanding the array of student backgrounds."