Flint Official Recorded Saying 'Niggers' Who 'Don't Pay Their Bills' Caused Water Crisis
Phil Stair apologized for his "private opinion" going public.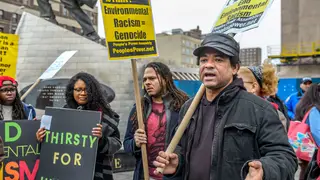 An official in Flint, Michigan, was recorded using a racial slur when discussing the water crisis. The audio was obtained by environmental activist Chelsea Lyon and shared by Truth Against the Machine. 
"Flint has the same problems as Detroit — fucking ni**ers don't pay their bills, believe me, I deal with them," said Phil Stair, sales manager for the Genesee County Land Bank.
On Monday, Stair handed in his official resignation to Land Bank's executive director, Michele M. Wildman, on Monday, reported MLive.
While driving in a car with Lyons, Stair used the racial slur multiple times when talking about the Black residents in Flint. 
"I don't want to call them ni**ers, sh*t I just went to Myrtle Beach, 24 guys, and I was the only white guy; I got friends, I mean, there's trash and there's people that do this sh*t. They just don't pay their bills. Well, Detroit, didn't collect on their bills, so they charged everybody else, but Flint, Flint had to pay their bill to Detroit," Stair said.
Stair suggested the water crisis occurred because Flint had to pay their bills to Detroit, who raised the price. As a result, the city used contaminated water on the residents. This story contradicts the official accounts for the water situation in Flint.
A 7-second portion of the recording was circulated on social media

Land Bank's executive director, Michele M. Wildman, called the recording troubling

"I am deeply troubled by [the statements]," Wildman said. "The citizens of Flint deserve to have trust in their public officials."

In his resignation, Stair apologized for his opinions.

"I feel that I cannot carry out nor be effective in my position at the Land Bank with the social media recorded of my private opinion on the Flint Water crisis and the insensitive language used. I am deeply sorry for what I said and those I offended. I do not know how I can face my friends and co-workers," Stair wrote in the letter obtained by WEYI.

People who heard the recording discussed the apparent rise in racism in the country

Stair's full conversation can be heard below