Birmingham Church Bombing 60 Years Later: Looking At the City From Those Impacted By It
In 1963, racists attacked a Baptist church in a town central to the Civil Rights movement; now, the mayor and the sister of one of the victims reflect on how far things have come.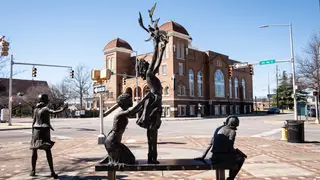 The corner of 16th Street and North 6th Avenue in Birmingham, Ala., has become a historical site, a museum, and a shrine to children lost in a domestic terror attack six decades ago—something whose impact has become more distant as the generations pass.

But Kimberly McNair Brock still feels the effects of what happened to her family, even though it was years before she was born.

"As kids growing up, It was always a part of our lives," she said. "I would imagine from that point in my parents' lives, in their world, everything changed because that was their only child."

That child, Denise McNair, was an 11-year-old attending Sunday school on the morning of Sept. 15, 1963, when a bomb planted under the steps of the 16th Street Baptist Church exploded, ripping through the basement, killing her and three other girls, Addie Mae Collins, Cynthia Wesley, and Carole Robertson, each 14.
Addie Mae's younger sister  Sarah, who was with them, was severely injured in the explosion. At the time, they were putting on choir robes in a restroom near the stairwell when the blast occurred, injuring more than 20 other people.
The perpetrators were Ku Klux Klan terrorists who had targeted the church, which had become a meeting place for civil rights activities. Months prior, Martin Luther King had been jailed in Birmingham for participating in a sit-in; Medgar Evers had been assassinated in Jackson, Miss., and the March on Washington took place just weeks before.

"They died between the sacred wall of the church of God, and they were discussing the eternal meaning of love," King said as he eulogized the girls at their funeral.

Time moved on for the McNair family. Denise's parents, Chris and Maxine, had another girl the following year, Lisa, and four years after the bombing, Kimberly.
"Growing up in Birmingham," she remembered, "everybody that knew my parents, they knew us, and before we even opened our mouths, they could identify who we were. So it's a little tough growing up in a town where everybody knows who you are. It's something that you have to wear with you at all times."
People close to her sister would tell them about her, but the incident was so traumatic, and with fewer people back then seeking therapy, what happened was not talked about much. "Because it was something that just shook up the world, four little girls going to church, a place they were supposed to be safe, and they don't get to come home, and it set a precedent for things to change with the Civil Rights Movement."
Mayor Randall Woodfin, born decades after the 16th Street Baptist Church bombing, often talks to Birmingham residents who are old enough to remember what happened – and those who were there said it's something etched into their memories.
"I think in listening to one of the victims in the church, she also talked about the sound of the explosion, how horrific it was, and how it shook the ground," Woodfin explained. "I think the other thing people tell you is that people gathered, helping people and assisting people out of the church.
"I think how horrific the scene looked, and how that shakes people to their core when they describe it, the emotional toll they're reliving in their heads and the image I'm seeing based on what they're describing, I can't imagine what they saw and how that feels."

Woodfin has been part of the observances on the anniversary of the bombing, and the family members of those harmed in the bombing are recognized.
"What I see every year is pride," he said. "What I also see is still hurt. None of those family members want to stand in that church and be recognized for being descendants of those four little girls. But they still do it because they hold a legacy of what happened with domestic terrorism. And I think the pride comes from knowing that we all stand on those four little girls' shoulders."

It also means, he said, that Birmingham as a community carries the weight of what happened into the future. At the same time, however, the city has a rich place in Black history separate from the attack.
The A.G. Gaston Motel (now part of the National Parks Service), Kelly Ingram Park, and the Fourth Avenue Business District are each part of the legacy the city bears in the Civil Rights Movement. For the week leading up to the 60th anniversary, Birmingham leaders have been moving forward with programming they call "Forging Justice" as part of the commemorations.

"The whole notion is, we shouldn't just acknowledge all the bad things that have happened," said Woodfin. "You have to realize there was sincere organ organizing here, activism here, fighting here, resisting those who are resisting change, and that fighting for change eventually won out."

But on the 60th anniversary of the bombing, the Evers assassination, the March on Washington, the sit-ins find America still primarily divided on many issues of race, class, and social equity. Southern cities like Birmingham, Selma and Montgomery, Ala., Jackson, Miss., Memphis, Tenn., Atlanta, and many others that served as places where historical flags were put serve as reminders of the long way the nation has come, but how far it has to go.

But McNair Brock feels there is a way to walk that path.
"I think we have to sit down and have a conversation and communicate and not with weapons," she said. She noted her sister Lisa's book, Dear Denise: Letters to the Sister I Never Knew, released last year. Its audience is not primarily African-American, and it intends to get people to listen to one another. "We have to have hard conversations, conversations that make you uncomfortable. And I think that that's important. That's the only way we'll learn and know anything."