Hold Up: Twitter Is Dragging Meryl Streep for 'We Are All Africans' Comment
Get the real deal on what the Oscar winner actually meant.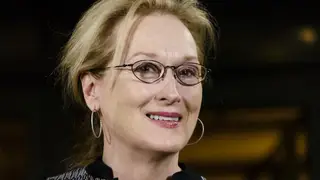 Meryl Streep may be adored by Hollywood, the Academy and filmgoers, but she isn't making any friends on Black Twitter. The Oscar-winning actress is facing backlash after she told reporters "we are all Africans." However, she wasn't talking about diversity, like many are reporting.
It all started when Streep, who is the head of the Berlinale Film Festival jury this year, was asked by reporters how she felt about the fact that the seven-member panel of judges is all white. Considering the outrage around #OscarsSoWhite and diversity in Hollywood in general, it's a fair question. Streep responded saying she is committed to equality and inclusion "of all genders, races, ethnicities, religions."
She then went on to point out the makeup of the jury is, in fact, somewhat diverse — at least on gender lines: "This jury is evidence that at least women are included and in fact dominate this jury, and that's an unusual situation in bodies of people who make decisions," Streep said. "So I think the Berlinale is ahead of the game."
When asked about her knowledge of African films, Streep reportedly said, "The thing I've noticed from my [different] roles is there is a core of humanity that travels right through every culture. And, after all, we're all from Africa, originally. We're all Berliners. We're all Africans, really." 
Does that change your thoughts about the "all Africans" comment?
Twitter, of course, has a lot to say about it:
And this isn't the first time in recent months that Streep has found herself in hot water over her statements about race. Last year, she was targeted by Black Twitter for a marketing campaign she launched for her film, Suffragette. In the film, the Hollywood veteran plays British political activist Emmeline Pankhurst, who fought to get women the right to vote in the late 1800s. To promote the film, Streep and other stars posed in T-shirts that read, "I'd Rather Be a Rebel Than a Slave."
The 19th-century quote has angered a lot of people, particularly Black Americans who feel the quote reflects the blind eye white feminism regularly turns towards Black issues. 
Want to hear from someone who always keeps it 100 on matters of race, diversity and equality? Check out our interview with Janet Mock below:
BET.com is your No. 1 source for Black celebrity news, photos, exclusive videos and all the latest in the world of hip hop and R&B music. 
(Photo: Clemens Bilan/Getty Images)