Huh? Moving Company Slammed by Tituss Burgess Gives Crazy Excuse for Calling Him a Gay Slur
Are you buying it?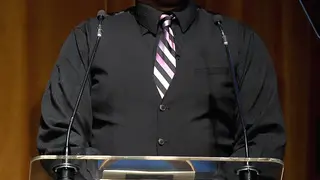 Unbreakable Kimmy Schmidt star Tituss Burgess recently put a New York moving company on blast after they tried to con him, calling him an anti-gay slur in the process. Now, it seems as the actor got the last laugh as Frank's Express issued a statement apologizing for what went down.
"Dear Tituss! We are very sorry for fatal misunderstanding," the statement reads on the company's website. "But we have never spoken with you by phone. We never reserve our trucks and crews via phone. It is rule! Our process is next: a customer send us request via website thn a customer must confirma  move plan via email. If you have phone number, saved chat and messages please provide us. We never ask our customer about good reviews before a move. And of course our dispatcher never threatens to our customers. We are very small Company and we watch our reputation. It would be an honor to help Tituss Burgess for us. We would try to do out best."
Tituss read the company for filth in a reent Instagram post and a scathing Yelp review, slamming them for their terrible service. 
"You messed with the wrong Queen," he warned them.
Recap how NBA referee Bill Kennedy came out after Rajon Rondo hurled a homophobic slur in the BET Breaks video, above.