Nick Cannon Says He Pays Over $3M A Year In Child Support!
The TV host is currently expecting his 12th child.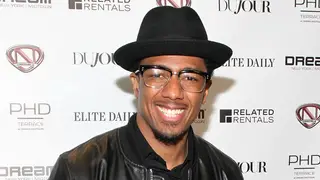 Nick Cannon says he pays well over $3 million in child support. The proud dad, who is currently expecting his 12th child, recently shared with The Neighborhood Talk that he has made it his priority to financially care for all his children.
"I definitely spend a lot more than that on my children annually," the TV host shared with the media outlet after a California family law attorney estimated he spends about $3 million a year in child support contributions. He continued, "I don't plan to ever have to participate in the governmental system of child."
Cannon has been very vocal about how much he enjoys being a father and the strong relationships he hopes to build with his little ones.
"Every day I just wake up excited as a father," Cannon told People in May about his love for fatherhood. "I'm so excited about all my kids. Constantly, from every aspect of it. From them getting citizen of the month awards in the first grade to the birth of the new ones."
FYI: Last Friday (Nov. 11), Cannon welcomed a beautiful baby girl with DJ Abby De La Rosa. He is currently expecting his 12th child with model Alyssa Scott.