Dr. J Says Kobe Bryant's Numbers Shouldn't Be Retired NBA-Wide
The Lakers legend wore the numbers 8 and 24 during his illustrious basketball career.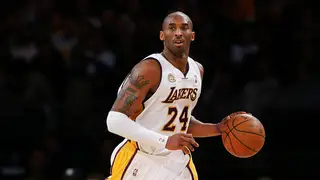 Julius Erving is a big fan of Kobe Bryant but says the NBA shouldn't retire the Los Angeles Lakers legend's number league-wide.
"I don't think he should be compared with the Russell situation," Erving said of Kobe while at LAX. "We're fresh into that but let's see how that works out. Maybe at some point in time. Bill was 86 years old, so address it like that to an 86-year-old –multiple champions, multiple coaching champions, multiple on-and-off the court champion, or whatever -- there's no comparison."
"I wouldn't even try to compare Kobe Bryant to Russell," he added, noting that Russell was a good friend of his.
Instead, Erving, who himself is a Hall of Famer after an illustrious career with the Philadelphia 76ers during the 1970s and '80s, says he believes the posthumous honors Kobe receives should be from the Lakers.
"It's more of a franchise situation with the Lakers," Erving explained. "If they wanted to do it, which I think they already have, that makes sense – but for the whole league to do it, probably not. Bill was a very special individual and what he did for basketball, no one else could ever do again."
Watch the full interview segment here.