Jodie Turner-Smith Rocks Barely There Butt Baring Ensemble on Red Carpet in London
She completed the look with a pair of stilettos and gloves.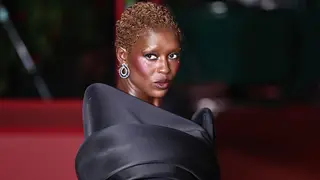 Just call her Mrs.Showstopper!
If you have not seen Jodie Turner-Smith's latest red-carpet look, be prepared to get major whiplash. Last night (September 14), while at Vogue World: London, the actress stepped onto the red carpet, and the rest was history. She effortlessly donned a black number that no one would soon forget.
The Queen & Slim star took avant-garde to another level. She rocked an asymmetrical black swatch of satin fabric adorned with multiple layers wrapped around her shoulder, forming an exaggerated bow. The top layer showed off her amazing core, neck, and arms, but it is the bottom half that people can't stop talking about.
She paired the top with a matching high-cut thong. Yes, a thong by Victor & Rolf, as reported by InStyle.
And yes, her body was body-ing while glowing from head to toe.
The actor completed the look with black opera gloves, diamond drop earrings, a bold bracelet, a sapphire ring, and complimenting stilettos. And as of late, she has been sporting a low haircut, and this time was no exception. Turner-Smith was sultry in bright copper coils styled in miniature twists.
Her makeup was just as campy. She had dark, smokey eyes, over-the-top eyeliner with jewels on each point, deep, rosy cheeks, and merlot-colored lips.
This summer, she opened up to the outlet on where her love of fashion originated.
"My mother was very fashionable, and I grew up looking at her and her attitudes about costume and expression of self through wardrobe," she shared. "As I've said many times, I feel that clothing is costume, but I think that it moves in both directions. On the one hand, the energy that I have inspires the clothes that I wear, and sometimes the clothes that I wear inspire the energy that I have."
All we have to say is, "Yesterday's price is not today's price!" Go 'head Jodie!