5 Books To Add To Your Reading List For Pride Month
From an inspirational memoir to a coming of age story, these LGBTQIA+ authors honor different journeys towards acceptance and equality.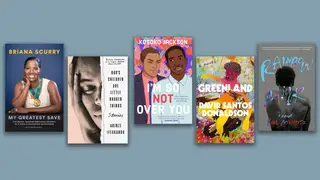 Pride Month is celebrated annually in June to honor the 1969 Stonewall riot —aka the Stonewall Uprising— when New York City police raided the Stonewall Inn, a local gay bar in Greenwich Village over trumped up liquor licensing violations. The event led to six days of protests which shifted the conversation around LGBTQ+ activism in America— advancing the community's fight for sexual and gender freedom.
While it should go without saying that love is love and opportunities should abound for all people, sadly, many in the LGBTQIA+ community still face harassment, abuse, and persecution. And though Stonewall marked the beginning of the turning point for change, we seemingly still have years to go when it comes to treating all people with fairness and respect.
This Pride Month, BET.com has chosen books from authors who bring an unmatched perspective to literature that not only inspires but encourages others to be proud of their sexuality regardless of how they choose to identify.
Here are five, LGBTQIA+ authors whose approach to writing is so authentic, you'll want to add them to your reading list to experience throughout the rest of the year.
"My Greatest Save: The Brave, Barrier-Breaking Journey of a World Champion Goalkeeper" by Briana Scurry with Wayne Coffey
Scurry pawned her gold medals and ended her career in constant pain but was eventually able to get the treatment she needed and fought her way back. She went on to become the assistant coach of the Washington Spirit in 2018. Look for her inspiring memoir available June 21, 2022.
"God's Children Are Little Broken Things" by Arinze Ifeakandu
Stories about love and pain are universal, which is why Arinze Ifeakandu's "God's Children Are Little Broken Things" will speak to your heart. The nine stories all center around a gay Nigerian men who struggle with reconciling cultural obligations to traditional masculinity with the broken love affairs with other men. The prose is filled with warmth and examines expectations based on so-called societal norms.
"Greenland" by David Santos Donaldson
In this debut novel by David Santos Donaldson, "Greenland," we meet Kip Starling, who is currently struggling with writer's block, locked in a basement with a gun and 21 gallons of water. And if that wasn't enough, he's also on the outs with his best friend and his husband wants to end their marriage. All of that would have made for an interesting book, but Donaldson adds another layer when we learn that Kip's book takes place in 1919 and is about Mohammed el Adl, the young Egyptian lover of British author E. M. Forster. All there is to say is grab a glass of wine or a cup of tea because this novel within a novel examines race, homophobia, and class in numerous incarnations.
"I'm So (Not) Over You" by Kosoko Jackson
If you love rom coms and are in the mood for something light, then "I'm So (Not) Over You" by Kosoko Jackson is just the book you need. In the book listed as one of Oprah Daily's Most Anticipated Romance Novels of 2022, we find journalist Kian Andrews who receives an urgent text from his ex-boyfriend, Hudson Rivers. It seems Hudson wants Kian to pretend to be his boyfriend while his parents are visiting. Kian agrees, and there ensues the drama as two old lovers pretend to be in a fake relationship while others believe it's real. Can they get away with it without crossing the line? You'll have to read the book to find out.
"Rainbow Milk" by Paul Mendez
"Rainbow Milk" by Paul Mendez is a semi-autobiographical coming of age story that examines religion, race, and sexuality. The story begins in 1959, and we meet Jamaican ex-boxer Norman Alonso who with his wife and kids have immigrated to Britain for a better life but are met with racism and other difficulties: "We leave the Garden of Eden ... and find Sodom and Gomorrah," writes Mendez. Fast forward, we are in 2002, and we find Norman's grandson Jesse whose sexual identity struggles to find its place in his family, who also happen to be Jehovah's Witnesses. Jesse eventually leaves home and finds himself living in a male brothel allowing him to truly test his sexual freedom.