John Boyega Finally Spoke to Jamie Foxx, Says Actor is 'Doing Well'
The Academy Award winner has been recovering at a rehab center in Chicago.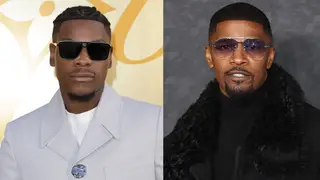 John Boyega finally had the opportunity to connect with his co-star Jamie Foxx amid the Academy Award winner's recovery from an undisclosed "medical complication."
According to the star of Netflix's latest film, The Cloned Tyrone, who spoke to PEOPLE, Foxx "finally picked up the phone." He added, "He's doing well. And  then, you know, we just giving him the privacy, and we can't wait for his return."
Boyega said he gave the 55-year-old Hollywood veteran well wishes "directly."  He continued, "I gave him all the well wishes. So I'm just gonna be waiting until he comes back out here. So take your time, Jamie. We love you, bro."
Foxx has been reportedly recovering at the Shirley Ryan AbilityLab rehabilitation facility in Chicago that specializes in treatment for stroke, spinal injuries, and traumatic brain injury.
Since then he's released two films including the Netflix comedy mystery and the Nick Cassavetes-directed action film, God Is a Bullet, which is in select theaters now.