Living The Soft Life: 8 Essential Items For Creating A Zen Space
Try these tips when building your sanctuary at home.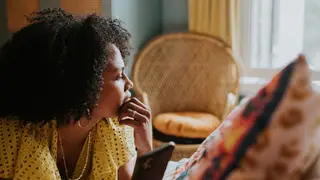 For many people, the home is a safe place to relax and be themselves, to escape the stresses of the outside world. It is also an excellent space for setting up a meditative practice that can manage emotional or physical wounds. Incorporating methods like "Zen" is one of the many ways to make your space whole. 
"Embracing Zen interior style means adhering to the principles of simplicity, minimalism, and the use of natural materials to craft a tranquil and harmonious living space," advises Memphis-based interior design expert Carmeon Hamilton. The star of HGTV's Reno My Rental emphasizes that when you embark on the journey to create your own Zen haven, you should consider the essential elements of balance and tranquility.
Zen is not confined to a specific design style. It's a mindful approach to interior design, one that engages all five of your senses. You can begin by establishing a neutral or earthy color palette that resonates with your sensibilities. Incorporate shades of creams and beiges, chocolate browns, or even black, leaning into monochromatic elements throughout your space.
Consider adding a diffuser with fragrances like lavender, jasmine, and mint to enhance the serene atmosphere. She also suggests inviting nature inside with plants or flowers. However, leave your space clutter-free by adding only a few items.  Here are eight to consider. 
Black Pepper Paperie Co. Ancestor Index Cards
Domain by Laura Hodges Vases
The Polo vase is a sleek and stylish addition to any home. Its versatile design can be used with fresh flowers, dried branches, or nothing. Laura Hodges Studio is a boutique interior design firm located in the Baltimore/Washington DC area that specializes in creating beautiful, tailored spaces that reflect each client's individual style and taste.
Sweet Home Alberti Macrame Plant Hangers
In 2019, self-taught macrame artist Casey Alberti launched Sweet Home Alberti, inspired by friends and family who encouraged her to sell her work. Her Etsy shop sells rainbow-colored plant hangers, coasters, and tribal-patterned earrings. Aspiring artists can also purchase her DIY patterns to get creative at home.
Effortless Composition's marble bookend
Effortless Composition's marble bookend is a stylish and sophisticated way to prop up books on your office desk or bookshelf. The soft taupe finish makes it a neutral addition to any space. Pair it with our marble candle holder for a complete Parisian luxe look. Founder & Chief Interior Stylist, Brittiny founded Effortless Composition, believing that creating a home you love should be effortless.
Mitchell Black Nomalanga - Olive & Linen Wallpaper by Forbes + Masters
Nomalanga, which means "sunlit" in Zulu, is a design collaboration featuring the modern style of Monet Masters and Tavia Forbes of Atlanta-based interior design firm Forbes + Masters. This wallpaper consists of circles representing the sun and, thus, life, with each line representing a horizon to which it must rise and then set.
K Apostrophe "Bowie" Throw Blanket
This luxurious, soft, and unique throw blanket made of 100% cotton with a jacquard weave is hand-finished for a perfect look and feel and is made to order. K'era is a Los Angeles-based mixed-media painter and textile artist who previously worked in public relations. Her work is inspired by her love of textiles and her intuitive art practice. She has collaborated with brands such as HERS, Revival Rugs, Saatchi Art, and West Elm.
Jermaine Demetrius Art The Goddess Candle
Each candle from Jermaine Demetrius Art is handcrafted with meticulous attention to detail using natural soy and beeswax blend wax. Shaped like a Goddess, this candle represents power and the ability to create her reality.
Actually Curious The Starter Bundle
The Starter Bundle is the perfect way to start meaningful conversations with friends and family. The Happy Hour Edition includes questions about dreams, ambitions, and cherished memories, while the Curiosity Edition explores background, values, and views on important issues.