Chrissy Teigen Shares That A DNA Test Mistakenly Convinced Her She Had A Twin Sister
The model and entrepreneur said the experience sent her 'spiraling' as she contacted family members to uncover the truth.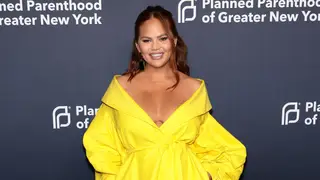 It's almost like a Hollywood movie plot, finding out from a home DNA test that you have an identical twin. But, for Chrissy Teigen—it was real life. However, the whole thing turned out to be a mistake. Still, it took a while before the model, mother, and entrepreneur would learn the truth.
In an Instagram story on June 4, Teigen shared, "I have been on a bit of a journey for the past few years, especially the past year, of health and wellness and trying to figure out a lot about my past and my family." The author and entrepreneur said she had previously done a 23 and Me test to look up her ancestry with support from her doctor and therapist.
She added that the test results were expedited.
"The first thing that came up after I found out that I was part Neanderthal, was this: I have an identical twin," she said in the IG video and showing her family tree and pointing to a circle next to hers that stated the initials BB was an identical twin. "That has to be a joke, right?"
She said the surprising revelation sent her "spiraling," and she scrambled to reach out to family members to uncover the truth.
"I'm literally saying, 'Dad, hey, did you see come out of mom's vagina and were there two of me?'" she recalled. "He starts laughing, saying 'No, I was there; there are not two of you!' I was like, 'Are you sure you were there?'"
She contacted her sister, Tina, who was surprised. However, Teigen said, "At this point, I'm making excuses for my whole life," she quipped. "This is why I'm codependent because my twin was ripped away from me. I've always felt something missing, and this is why I have addiction issues."
Tina reminded Teigen that she had taken a DNA test as part of a reality show that never aired. The test was filed under anonymous names—which was the source of the mix-up.
"They had us take DNA tests, and they put it under secret names so the world couldn't tell," Teigen remembered. "My identical twin was myself. I was matching myself."
According to US Weekly, Teigen and her family eventually found the entire ordeal hilarious—and created a fake "monument" for the twin who never existed and who they dubbed "Sissy Teigen."
"Sissy Teigen, Sister, Aunt, and Friend," the picture read. "June 4, 2023, 2:04 p.m. to June 4, 2023, 3:05 p.m."