Mobb Deep's 'The Infamous' Turns 25: 10 Facts You Didn't Know About The Landmark LP
Learn some widely unknown jewels about the Queensbridge classic album.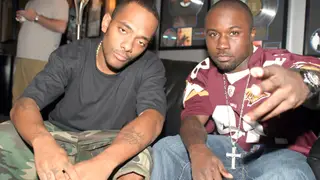 Mobb Deep's seminal sophomore album The Infamous was released on April 25, 1995 and proved to be one of the greatest hip hop albums of the mid 1990s.
The 16-track LP was not only huge for New York hip hop, but quite literally saved Prodigy and Havoc less than two years after they were dropped from their first label deal with 4th & Broadway.  Their debut LP Juvenile Hell was widely considered a flop and it appeared the duo may not have a comeback. However, by 1994 the Queensbridge duo signed to Loud Records, who had previously signed Wu-Tang Clan and released their extremely successful debut Enter the Wu-Tang (36 Chambers) album. For their first LP at their new home, the pressure was on and the Queensbridge duo enlisted Q-Tip from A Tribe Called Quest to help create what would eventually become The Infamous. 
When it came time to promote The Infamous, many hip hop heads were excited that both Nas and members of Wu-Tang would make appearances. That excitement would eventually turn to awe after its official release. The Infamous shortly became a landmark example of grimey, stripped down beats with eerie piano and jazz loops covered by poignant and gritty tales about everyday life in New York's Queensbridge Housing projects during the early 1990s.
With classic records like "Shook Ones, Pt. II," "Survival of the Fittest," and "Eye for an Eye," The Infamous remains timeless, even a quarter of a century later.
BET.com compiled lesser-known stories and anecdotes about the legendary LP previously told straight from those who were there when The Infamous was created.
Q-TIP HELPED FINISH THE BEATS HAVOC COOKED UP IN THE PROJECTS

As Mobb Deep's primary producer, Havoc created the backdrop for The Infamous with help from Q-Tip. According to Hav and Tip, as well as others who were around, Havoc would spend his time in the Queensbridge projects cooking up beats and would later take them to the studio for Q-Tip to pretty up.
"I was there most of the time when Hav made the beats," recalled Twin Gambino (later known as Big Twins), a Mobb Deep affiliate and member of Infamous Mobb, in a 2015 interview. "Hav lived in 41-15 and I lived in 41-16. He would look out his window and call me and we could talk to each other. Early in the morning he used to hit me up, 'Yo, let's get some beers and some weed!' I used to go and get the beers and weed and go to his crib and he used to push on them [MPC] buttons all day. I heard every beat he made – 'Survival of the Fittest,' 'Shook Ones Pt. II' – I was right there."
He continued, "It was dope but I didn't know what he was doing really. He would press on the buttons, the beat would come out dope. Later on we would go to the studio, I didn't really understand it. I was just happy to get off the block for a couple of hours and not hustling or anything."
Havoc told Complex in 2011 about working with Q-Tip on The Infamous, "A Tribe Called Quest, their music was just crazy crispy and sounded so professional. We was so rugged and gritty with it, we just needed a snare that popped out the beat, and that's where Q-Tip came in. And it wasn't even verbal advice, it was like, 'Just watch what I do as I go into the studio.' He was like, 'Check this idea out. What do you think about this?' Basically, it was more of just a watch and observe and take that and run with it."
Q-Tip said in the same interview, "I met Mobb Deep when they were doing their first album and we always stayed in contact. I remember I spoke to Havoc a few times and he was like, 'Come through. Let's work.' I came through to the studio when they had the first 'Shook Ones' out. I can't remember exactly though. You know, it was a long time ago."
He also added,"I can't remember which ones but I mixed a few songs on there that I didn't produce. I don't know if I was there at mastering, but I remember speaking to Matty and Havoc about the mastering and how they wanted it to sound. The engineers who engineered it, It was just another gig for them and they didn't really give a s**t. I was just trying to push the sound and make it sound as best as I could with what we were dealt. I remember wanting it to bang. Hav was really the general, I was just a soldier so I was trying to lend a hand."
Q-Tip concluded with, "It was cool being in a dynamic where somebody else was taking the reins. It's a totally different sound than the Tribe stuff."

MOBB DEEP AND THEIR CREW WERE KICKED OUT OF A QUEENSBRIDGE HOUSING PROJECT DURING THE ALBUM'S OFFICIAL PHOTOSHOOT

The artwork for the vinyl and CD copies of The Infamous were shot by Chi Modu, a famed New York photographer who worked with Tupac, Snoop Dogg, Bone Thugs-N-Harmony, and more. During the official photoshoot, Prodigy and Havoc, as well as some of their closest cohorts and associates, all participated in group shots on top of a Queensbridge Housing projects building. The large gathering on the roof, however, caused the NYPD to shut it down just minutes into that portion of the shoot.
"I remember Havoc and P were like, 'Yo, we need a shot of The Bridge,' and they would always ask us if was cool to go on the roof," said Gambino in a 2015 interview. "We went on the roof, shooting pictures – maybe for like 15 minutes – and then there was like 20 or 30 cops that surrounded us and we almost got in trouble and we had to leave."

BIG NOYD MISSED THE ALBUM PHOTOSHOOT DUE TO A COURT DATE WHILE CAPONE SHOWED UP INSTEAD

Big Noyd is still and was Mobb Deep's closest affiliate and made three rapping appearances on The Infamous, including an a capella freestyle on "Just Step Prelude" where he mentions "going to court for three cases, in three different places." Well, turns out that was somewhat true as he ended up missing the album's photoshoot due to a court date. Figuratively taking his place would be Capone, a Queensbridge native who grew up with Mobb Deep and would later become half of the legendary hip hop duo Capone-N-Noreaga.

CRYSTAL JOHNSON, WHO SINGS THE HOOK TO "TEMPERATURE'S RISING," WORKED WITH PINK FLOYD AS A CHILD

"Temperature's Rising" would end up being The Infamous' third single release and eventually charted at number three on Billboard's Top R&B/Hip-Hop chart. The change-of-pace cut conveyed the pressure of the police's presence in Mobb Deep's life. The song was highlighted by its hook, sung by vocalist Crystal Johnson.
While Johnson worked with rap contemporaries like Heavy D, Dr. Dre, and Pete Rock & CL Smooth, she also collaborated with English rock band Pink Floyd during her childhood years. When she was seven, Johnson recorded with Pink Floyd and the Institutional Children's Choir, which included a variety of stage productions and musical collaborations.

GODFATHER PT. III WAS ARRESTED MINUTES AFTER THE 'SHOOK ONES PT. II' VIDEO SHOOT WRAPPED

Triple L (later known as Godfather Pt. III), a close Mobb Deep affiliate, member of Infamous Mobb and actor in the "Shook Ones, Pt. II" music video, was arrested shortly after the video shoot wrapped. According to him, what happened in the video, especially toward the end, ended up playing out in a much different way in real life.

At the end of the video, Prodigy, Havoc and their crew appear back at a Queensbridge apartment trying to figure out who shot one of their cohorts earlier in the video. They all end up leaving and the video ends, lending to speculation over what would come next. For Triple L, in real life, it'd be prison.
"After the Shook Ones Pt. II video [was shot] I got arrested and went to jail for a year. Five minutes after we walk out the door from the last scene the police took me in," he said in a 2015 interview with Nah Right. "So when I saw the video [when it came out] I was in prison. So it almost played to the script of the video 'cause we were wondering who shot the guy. I'm the first one you see at the end cooking up."

THE HI-HATS IN "SHOOK ONES, PT. II" ARE ACTUALLY THE CRACKLING OF A GAS STOVE

The "tsst, tsst, tsst, tsst" sound effect that open Mobb Deep's seminal single "Shook Ones, Pt. II?" -- that was a real life recording of a stove starting up in a home in the projects. During a 2018 interview, Havoc said he got inspiration from a stove and decided to include a sample of it in the song. "I was just in the projects, you know, broke as f**k, on some, 'I just gotta make some s**t.' The stove inspired me," he said. "I was like, 'Yeah, let me throw this into the beat.'"
The single also features an ingenious piano sample from Herbie Hancock's "Jessica" that was so meticulously chopped it took almost 16 years for the Internet to finally find out where it came from.

DRUGS AND ALCOHOL WERE HEAVILY CONSUMED DURING THE MAKING OF THE ALBUM

On "Give Up the Goods (Just Step)," Prodigy raps, "Sippin' E&J, getting bent all night." Well, it turns out that alcohol wasn't the only thing altering Mobb Deep's mindstate while recording The Infamous. According to Prodigy, all kinds of substances were consumed during the making of the album, particularly "Shook Ones, Pt. II."
"I remember that clearly. We wrote ["Shook Ones, Pt. II"] in the crib high on drugs. [Laughs.] Probably weed, probably was some dust in there, mad 40s, getting twisted," he said in a 2011 interview with Complex. "That was one of the first ones where we were like, 'Whoa. This s**t is ill. This shit sounds crazy right here. This is some other s**t right here son. This ain't normal.' So we knew we was making some shit with that song. We were in the crib and we were spitting it to each other like, 'Yo, this shit is some other s**t right here son.'"

THE SKITS WERE COMPLETELY UNREHEARSED

According to those who were there for the studio sessions, the skits on The Infamous were the result of drinking and talking their s**t.
"As far as the skits, that was for us to really express ourselves," said Mobb Deep affiliate and Infamous Mobb member Ty Nitty. "Our slang, the Dun language, that's when we brought that to the whole world. Like 'fatty bangin',' that was me who said that in the intro [to 'Q.U. Hectic'], certain things like that. Infamous Mobb, Mobb Deep, we had our own slang that we created. It's global now." 

The Dunn Language, often referred to as Dun Lingo, is a form of slang created by Mobb Deep and their crew that originated from a friend who had a speech impediment causing him to say "dun" instead of "son." As Prodigy explains in a 2011 interview, "[There were] certain things he'd say were cool to us, so it became popular and everybody started mimicking how he'd talk. It just started from there, and we called it the dun language. The lingo would later spread to usage in lyrics by rap luminaries such as Nas and Wu-Tang Clan members Raekwon and Ghostface Killah.

DIDDY ALMOST SIGNED MOBB DEEP TO BAD BOY

Before they were Mobb Deep, Prodigy and Havoc went by the moniker Poetical Prophets. It was a name that was so underwhelming that Diddy suggested they change their name if they were going to sign to the newly created Bad Boy Entertainment. While they eventually changed their name to Mobb Deep, the duo ended up signing with Loud Records, but it wasn't until after much deliberation.
"What really made us change it was [that] we were going to do a deal with Puffy at the time. He was going to sign us and everything but he said, 'There's only one thing about y'all. Y'all need to change your name.' We ended up not signing at all," said Havoc in a 2015 interview with Billboard.
He continued,  "When we were shopping around our demos and trying to get signed, Puff was one of the people that we went to 'cause we were really tight with Puff back in the day -- Prodigy more so. Prodigy would go out to clubs and stuff like that. Puff used to send us limos and we were kind of cool with him. I guess that was him warming up to us and trying to sign us. He wanted to sign us bad. He would've signed us but one thing he said, I remember, was, 'I like y'all and everything but y'all got to change your name.' He didn't try to come up with a name for us. He left that up to us. So when me and P was chillin' around at Def Jam the light bulb must've struck. We [came up with] Mobb Deep. Puff kind of initiated the name change."

ORIGINALLY, HAVOC SERVED AS THE PRIMARY LYRICIST WHILE PRODIGY WAS THE DUO'S MAIN PRODUCER

When hip hop heads think of Mobb Deep, they think of Prodigy as the primary emcee while Havoc was known as the beat-creator. Prior to The Infamous, though, it was the opposite. The Mobb's sophomore album's production was mostly helmed by Havoc and Q-Tip, however, prior to that – most notably on their debut effort Juvenile Hell – Havoc was the lyricist while Prodigy handled most of the beats.
According to Loud A&R Schott Free, the roles ended up reversing when it came time to create The Infamous. "When they were younger, they say that Havoc really used to be the catalyst with the topics when it comes to what they would talk about," he recalled. "At times, he would even sketch out and help P out on the writing side and Prodigy was the guy that taught Havoc how to program and chop beats. He was the production dude but since P would get sick so much, Hav had to learn to make his own beats and P couldn't really do anything except sit around from his sickle cell disease, so he had all that time to think of song concepts. And that's how everything started to change."


The Infamous would eventually go on to receive gold certification from the Recording Industry Association of America (RIAA), selling over 500,000 copies. It would be the first in a string of critically and commercially-selling LPs from the duo, who later released Hell on Earth a year later and Murda Muzik in 1999. Prodigy passed away in 2017 due to complications from a lifelong battle with sickle cell anemia. He explained the pain it caused him during his lifetime in an interview shortly before he passed away.