Organizers Against Police Brutality Meet With Congress and FCC on Net Neutrality
A group of activists who have organized against police brutality are meeting with members of Congress and the FCC to explain why a free and open Internet is important to continuing their fight.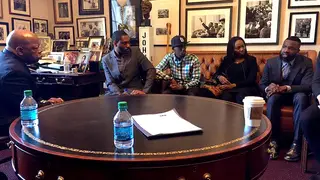 Social media has played a key role in spreading the news about what's happening on the ground in Ferguson, Missouri, following the killing of Michael Brown and in organizing protests against police brutality nationally. 
There were more than 18 million tweets about the Ferguson protests in August, according to Twitter. Net neutrality —  free and open Internet — has allowed social media to remain accessible for users to push conversations at this massive level. 
On Friday, a group of activists known as the Media Action Grassroots Network (MAGNet) met with Rep. John Lewis, Rep. Hakeem Jeffries, the FCC Chairman Tom Wheeler and FCC Commissioners Mignon Clyburn and Jessica Rosenworcel to explain why a free and open Internet is essential to their mission.
"For me working with Black immigrant communities as well as African-American communities, we know that our communities aren't monolithic and so allowing platforms that allow for diverse Black voices and diverse voices of all people is really important," Opal Tometi, a Black Lives Matter co-founder, told BET.com.
During their meeting Rep. John Lewis, who was a notable leader during the civil rights movement, told the group he wished social media existed 50 years ago.
"He was listening to our stories and he said, 'Man I wish we had social media when we were doing our work back in the 1960s. It would have been so much easier for us to connect and to organize and to reach people,'" Dallas Donnell of Color of Change said to BET.com.
Some have criticized the effectiveness of "hashtag activism." But Tometi says social media is how Black Lives Matter was able to organize a bus trip with more than 600 people to Ferguson Labor Day Weekend and how they were able to grow to 14 chapters around the country.
Donnell adds that social media has also allowed Blacks to reclaim the media narrative instead of relying on traditional media outlets. "Social media has been a phenomenal tool in taking the rein from those who were formerly media gatekeepers," he said. 
This is the first meeting of its kind for the group comprised of leaders from the Black Lives Matter and Million Hoodies movements. 
Currently in Congress, Democrats have brought a bill that calls for the FCC to ban "paid prioritization" which would push traffic for bigger companies over smaller companies, the Washington Post reports. Republicans are expected to present a bill that aligns with Democrats' stance on net neutrality, but blocks the FCC from using Title II of the Communications Act.
The FCC Commission is preparing to vote on the future of the issue on Feb. 26. President Obama has already spoken out in support of reclassifying the Internet under Title II.
Follow Natelege Whaley on Twitter: @Natelege_.
BET Politics News - Keep up to date with breaking news stories from around the nation, including headlines from the hip hop and entertainment world. Click here to subscribe to our newsletter. 
(Photo: Malkia A. Cyril via Twitter)