Venus Williams Wallops Roberta Vinci, Dedicates Win to Serena
Tense words were exchanged during the Wuhan Open.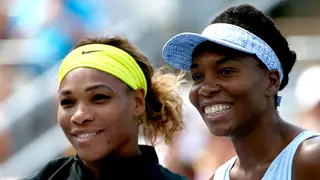 What one Williams sister started, the other one finished. After Serena lost her Grand Slam bid to Roberta Vinci at the U.S. Open last month, crushing hearts and sending ticket prices plummeting, Venus handed Vinci the defeat. 
The showdown took place at the Wuhan Open (Serena decided to sit out to recover from her injuries). Though the win was swift and decisive, it wasn't without drama. Vinci and Williams exchanged some tense words during and after the match.
Vinci apparently yelled, "What the f**k?" because she didn't like how long Venus took to get ready in between serves. Williams responded with the world's most threatening "Excuse me?" and clinched the winning point immediately after. Vinci showed her good sportsmanship by giving Williams a limp handshake.
Venus threw the last bit of shade while addressing reporters after the match. "If I could, I'd give my win to Serena at the U.S. Open," she said. 
Watch more celebrities praise Serena, and see the on court drama between Venus and Vinci in the videos below. 
BET Sports News — Get the latest news and information about African-Americans in sports, including weekly recaps, celebrity news and photos of your favorite Black athletes.