Offset Addresses Reports He Fought Quavo Backstage At The Grammys
The alleged altercation happened over Quavo's tribute to Takeoff during the awards.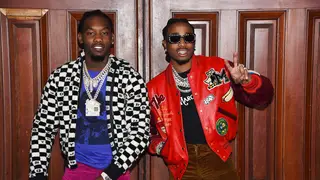 Offset is seemingly responding to reports that he fought with his cousin and fellow Migos member Quavo backstage at the 2023 Grammy Awards.
Taking to Twitter, Offset pushed back over claims he allegedly got into a physical altercation with Quavo over the latter not allowing him on-stage with him during his "In Memoriam" tribute to Takeoff, who was killed last November.
"What tf look like fighting my brother," the rapper tweeted on Monday (February 6). "yal n****s is crazy."
TMZ originally reported that the pair fought via witnesses who were behind the scenes at the Grammys. Offset was supposed to be part of the tribute after the Recording Academy had asked him to join.
Quavo was accompanied instead by the Maverick City Music gospel choir as they sang a rendition of his song "Without Me," which is a tribute itself to Takeoff and his tragic, untimely passing.
At the time of Takeoff's death, he and Quavo were really close and created music under the Unc and Phew moniker after Migos had broken up.
Those watching the Grammys Sunday noticed that it was only Quavo on-stage for the tribute, clearly signifying that there had not been a reconciliation between Quavo and Offset since Takeoff's death.