Not Seeing Enough Brothers In The All-Star Game? Here's 7 Black MLB Players You Should Know
Although the numbers of Black players is declining, there are still some stars that are making their mark in the league.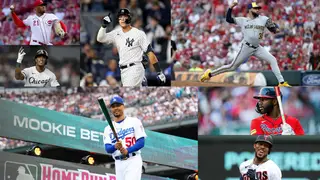 Major League Baseball was once a sport in which African American made the game worth watching. When Jackie Robinson broke baseball's color barrier in 1947, he opened a door for superstars such as Hank Aaron, Willie Mays, Ernie Banks, Reggie Jackson, Rickey Henderson, Tony Gwynn, Ken Griffey Jr., Barry Bonds, and many more to showcase their talents to the world in "America's national pastime." But a trend has been developing over the last several years where Black players have become a shrinking minority. According to the latest figures, Black American ballplayers make up only 6.2 percent of the league's players. In 2022, for the first time since 1950, the World Series did not feature a Black player on either team.
While the numbers of Black players are declining, there are still some superstars in the MLB that die-hard fans love and more casual observers need to be introduced to. In anticipation of the 2023 MLB All-Star Game that airs on July 11, here are Seven Black MLB Players That You Need To Know.
Mookie Betts, Outfielder, Los Angeles Dodgers

As one of the best players in the game, Mookie Betts has been the gold standard of thex MLB since his arrival on the baseball diamond. A perennial All-Star, in 2018 while playing with the Boston Red Sox, he produced one of the best seasons ever when he became the first player in MLB history to win the Most Valuable Player, Silver Slugger, Gold Glove, a batting title, and World Series in the same season. After being traded to the Los Angeles Dodgers in 2020, Betts continued his display of baseball brilliance leading the team to a World Series victory in his first season. Showing his concern for baseball's color problem, he donned a shirt that read "We need Black people in the stadium" in 2022. Posting another stellar all-around season, Betts is batting .276 with 26 home runs and 62 RBIs.

Devin Williams, Pitcher, Milwaukee Brewers

After debuting in 2019 with the Milwaukee Brewers, Devin Williams quickly established himself as one of the top relievers in baseball. In 2020, Williams was named both Rookie of the Year for the National League and Relief Pitcher of the Year after going 4-1 with a 0.33 ERA in 22 relief appearances. He was also named to the All-MLB Second Team and finished eighth in the National League Cy Young Award voting. In 2023,  he represented Team USA in the 2023 World Baseball Classic. This season, Williams has appeared in 34 games and struck out 45 batters.

Aaron Judge, Outfielder, New York Yankees

Although he's been battling a nagging toe injury, Aaron Judge remains the premier slugger in the MLB. In his first at-bat during his rookie campaign in 2016, he hit a home run which was a foreshadowing of things to come. He went on to have a record-breaking rookie season where was named an All-Star, became the first rookie to win the Home Run Derby, he hit 52 home runs, breaking Mark McGwire's MLB rookie record of 49, a record that stood for 30 years. In 2022, he set the AL record for most home runs in a season with 62, breaking the 61-year-old record held by Yankee legend Roger Maris, and he took home the AL Most Valuable Player Award. In limited action this season, Judge is batting .291 with 19 home runs and with 40 RBIs.

Tim Anderson, Shortstop, Chicago White Sox

Making his MLB debut in 2016, Tim Anderson would go on to become one the best infielders in the league. In 2019, Anderson led the American League in batting average, had the lowest walk percentage in the American League at 2.9 percent, and had career highs in hits with 167 with 88 fewer plate appearances than he had in the previous season. In 2020, Anderson won the Silver Slugger Award in 2020. He was named to the All-Star team in 2021 and 2022. In 2023, Anderson represented Team USA in the World Baseball Classic.

Marcus Semien, Shortstop, Texas Rangers

In his 10-year career, Marcus Semien has received many accolades as a top player. Debuting with Chicago White Sox in 2013, he was traded to the Oakland A's in 2016 where he led the major leagues in assists, with 477. He also hit 27 home runs. In one of his strongest seasons, he batted .285/.369/.522 with 33 home runs and led the major leagues with 747 at-bats in 2019. He was named to the inaugural All-MLB second team at shortstop and finished third in voting for the American League MVP. In the 2022 season, Semien led the major leagues in plate appearances (724) for the second straight year and at-bats (657) and hit 26 home runs with 83 RBIs. This season, Semien is battling.271, with 11 home runs and 56 RBIs.

Michael Harris II, Centerfielder, Atlanta Braves

At just 22 years old, Michael Harris II is primed to be one of baseball's brightest stars. Drafted by the Atlanta Braves in the third round of the 2019 MLB draft, Harris made his MLB debut with them in 2022 and won Rookie of the Year. In his debut season, he batted .297, hit 19 home runs, knocked in 69 RBIs, and stole 20 bases. This season, he's on pace to surpass all of his rookie numbers as the Braves are currently in first place in National League East.

Byron Buxton, Centerfielder/Designated Hitter, Minnesota Twins

Byron Buxton is one of the best athletes in MLB. Making his debut in 2015 with the Minnesota Twins, he became the team's starting center fielder in 2016 and won a Golden Glove Award in 2017. During the 2019 season, Buxton had a streak of 33 stolen bases and posted the fastest sprint speed of all American League players, at 30.3 feet/second. In the shortened 2020 Major League Baseball season, Buxton battled through a shoulder injury but posted a career-high .577 slugging percentage. This season, Buxton is batting .208 with 54 hits, and 15 home runs.