#HeyMsDJ: DJ Diamond Kuts Is A Philly Luminary Putting On For Her City, And Yes, The Eagles Too
The Philadelphia Eagles' official DJ discusses discovering Lil Uzi Vert early in his career, hosting the reboot of 'Yo! MTV Raps' and her come up.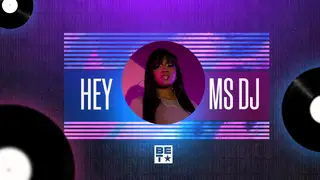 DJ Diamond Kuts is quintessential Philly.
She's got that trademark east coast, tough gal mantra, but also, a keen method of observing trends and talent while understanding what makes her city move. It's something very hard to duplicate and comes with experience.
As a DJ for Power99 in Philadelphia, DK has been a firsthand witness to seeing some of her city's best hip-hop and r&b talent rise from being a relative unknown. And that includes Lil Uzi Vert. Speaking with BET.com recently, she says she was one of the few that would actively lobby the "Just Wanna Rock" hitmaker's music to anyone adjacent to the music industry in Philly during the infancy of his come-up.
"He was one of a kind," Diamond Kuts recalls. "His sound was definitely different from the norm at the time and it worked for him and it doesn't matter who didn't believe in him in the beginning. They gotta respect them now."
When it comes to hip-hop music before Uzi's time in the spotlight, Kuts is present in that space as well. Last year, along with Conceited, she was tapped to co-host the reboot of the legendary video music show Yo! MTV Raps for Paramount+. During season 1 (2022), the pair welcomed guests like Latto, Trina and Freddie Gibbs while presenting tributes, live performances, and new music videos, similar to how Ed Lover and Dr. Dré did during the late '80s and early '90s.
And if that wasn't enough, Diamond Kuts is also the official DJ for the Philadelphia Eagles and more than excited about this Sunday's (February 12) Super Bowl LVII featuring her beloved team.
Check out our discussion below.
BET: First off, I would like to point out the impeccable timing of this interview – it comes in between the Eagles winning the NFC Championship game and them gearing up to play in the Super Bowl…
DJ Diamond Kuts: Bird Gang! Bird Gang! You know what I mean. Listen, I'm super excited for the Eagles. Oh my goodness. The energy in the stadium was amazing. It was amazing.
BET: Were you the DJ for them the last time they made the Super Bowl [in 2018]?
DK: No, I wasn't. I started working with them in 2020.
BET: Gotcha. Anyways, keeping it in Philly, describe growing up there and the sort of lessons you learned from the atmosphere that you were in and how it led you in a musical direction.
DK: Well, it actually started with my father. He was a local rapper in Philly but he had so many great friends like DJ Jazzy Jeff, and another Philly icon – DJ Cosmic Kev. Just being around him while he was doing music kind of inspired me. I told him I wanted to get into DJing so he bought me all the equipment I needed and he kind of set me up for the future. He passed away like right when I was kind of taking off, so I wish he was here to see what he started.
BET: You were the first woman to have a mix-show slot on Philadelphia radio, making you a pioneer in radio even nationwide. Now you're seeing women really become a huge part of DJing culture, whether it's on the radio, in the club with all types of music – hip-hop, jersey club, drill, west coast. Why do you think that is?
DK: It's amazing. I love to see it. I know people still say it's male-dominated, but a lot of things are male-dominated. But as far as like us females and us girls breaking into this space is amazing, because I mean, not to throw shade on them, but we kind of killing it a lot more than some of these guys out here, you know what I mean? You got different types of women. You got some women who just know how to throw some records on the needle, you've got some girls that really know how to get down. So it's a wide range of talent when it comes to females – not just with DJing but rappers and singers. Women are like taking over hip-hop right now. So it's just an amazing thing to see.
BET: You were really early on Lil Uzi Vert, and really many artists from Philly in general. When it comes to choosing what to play on the radio, mix shows, or at an event – obviously what's poppin' dictates some of that – but when it's at your own discretion what do you look for when trying to break an artist or trying something new?
DK: Music is about feeling. So when you got an artist, you're hearing them for the first time and you feel the record – I'm sure you guys have a favorite artist that you love listening to, but it's not just a listening thing for a lot of people. It's how the artist makes you feel. So when I listen to artists, I don't listen to just what they're saying. I do, but it's also about how they make me feel. When we got Uzi, he pretty much did his first record with us. That whole studio experience was with us, him at his grassroots level. From the very beginning his work ethic in the way he records and the way his music makes you feel, it just feels good. I just knew. I was like, this kid is gonna blow no doubt about it. So that's what I look for when I listen to new artists.
BET: Yeah and especially during the time he started buzzing because now his sound seems more normal, but back around 2015, that was quite different.
DK: He was one of a kind.
BET: Right, so I can only imagine the pressure of you deciding whether to introduce your east coast audience to a completely different sound than they're used to…
DK: It. Was. Insane. I mean, nobody really wanted to play his record. They were like, 'What is this? I don't want to play it.' I can't begin to tell you how many people I've gotten into real-life arguments with over Uzi, like, why aren't you playing this? He's hot, you need to be playing his music, why aren't you playing it? They just didn't get it. But it takes one or two popular people to say, 'You know what I like this guy, I'm gonna put him on, play his music,' or whatever the case may be for everybody else to jump on… His sound was definitely different from the norm at the time and it worked for him and it doesn't matter who didn't believe in him in the beginning. They gotta respect them now.
BET: As a journalist, it's always great to talk to people who also do interviews, as you do. One of the ones though that I thought was really special was the one you did with Pop Smoke. What was that experience like and what did you learn from it?
DK: Well, that interview is funny. I never told anybody this. But the first time that we did the interview, it wasn't like that. It was very much you sit on this side of the table, I'm on this side of the table, you're on mic one, I'm on mic two, and we're just gonna have this interview. And he was giving kind of standoffish type vibes. He really didn't want to be there. And I stopped it and said, let's just talk. Forget the mics, let's just have a conversation. It just worked out so much better. I never even played that interview on air – because we weren't on any mics or anything. We were just talking to each other. It was like, f**k the mics and all the cordial s**t. Let's just talk.
That's the fun thing as an interviewer, you can not have everything scripted, you don't have all your questions here. You're just talking to people and I learned a lot from that interview. I'm not saying it was the first time I've done an interview like that, but it's just a reminder that the person you're interviewing – they're a person just like you.
He was such a cool person and we spoke for a long time. He started playing music that was later released. He was just playing me exclusives, unreleased songs, it was just a good vibe. It's so unfortunate what happened to him and I was saddened like a lot of people were.
BET: Last year you began hosting the reboot of Yo! MTV Raps. How much did that mean to you considering the gravitas of how much that show meant for hip-hop culture early on and exposing it to the masses?
DK: That was really important to me just because it's Yo! MTV Raps. No matter what era you came up in, If you love music and you love hip-hop, you have heard of Yo! MTV Raps. So when they brought it to my attention, it was like, whoa, this is big. And if it's not done right we're going to get a lot of slack. I felt like it was a lot of weight on our shoulders but it was fun. Once we got there, we started taping, and we did everything in like a week. Honestly, it was so much fun. I'm happy to be a part of it and this is an amazing thing to be a part of. Like I said – my dad – I was raised in hip-hop. So to be a part of something so legendary, means everything to me.
BET: And I know a lot of people have asked you about it, but being able to deejay for President Obama on numerous occasions, as well as Mrs. Obama at least once. Putting all of the experiences you had spinning and meeting both of them, what was the overall vibe they gave you?
DK: Man, seeing him and meeting him… Oh my goodness. It felt like he wasn't a stranger. You ever meet somebody and it's like, I feel like I know you. I'm not nervous and you don't make me feel nervous. He didn't make me feel nervous. I was super relaxed. Even though all of those times combine into maybe a five or 10-minute conversation, every time was enough to last for a lifetime. It was like, I met the first African American president, the first Black president. That's history in itself. When I met Michelle [Obama], a lot of people were there. It wasn't really an intimate setting with that one, but it was still cool. Even with her, I didn't feel nervous or anything like that.
BET: What is your creative process like when it comes to putting together a mix show or a set to DJ an event? What are some of the thought processes that you have?
DK: A lot of DJs put playlists together. I don't put playlists together. For events, like when I'm DJing at a political rally or when I'm DJing at the Eagles games, I don't put a playlist together. I do, I guess, put a playlist together in my mind though because I have to listen to all the songs that I'm about to play. Some of them I don't have to listen to but they need to be super clean. When you're playing in an arena with 100,000 people or you're playing for a political rally, there's a whole bunch of people.
With the Eagles games, like with a political rally or any corporate event, you got to have a wide range of music. You can't just go in there playing straight hip-hop or straight R&B. You got to play pop, rap, hip-hop, R&B, soul, all kinds. You got to feel the vibe, the energy of the room.
BET: I can only imagine how much you've played "Just Wanna Rock"...
DK: Yesss, what? Come on [laughs]. I was so happy that [Lil Uzi Vert] did that record because Philly, we love club music. And I know he loves it and that's from being around him. I know he's always this to dance to it so when people were starting to rap over it, I'm like, Yo you got to do a club song. Not that my telling him was the reason he did it, but that is something that I did bring up with him. And it was only right. It fit him so well because he already was loving that kind of music before the world knew him.
BET: Speaking of club, what do you attribute to the recent sharp rise of the genre, popularized by places like Philly, Baltimore, New Jersey and D.C., especially on social media?
DK: Anybody that's watching this that's from Philly knows I hold club music near and dear to my heart. I felt like it was a time when I was on the radio where I was literally the only person that was still really, really playing club music and staying up to date on it and making sure that it still had a space. At parties, club music never stopped. I always played club music. I was the champion of it. Not to say that people weren't rapping on club music before – people have been rapping on club songs – but it has become popular, especially in a TikTok space. And I'm loving it. It keeps reinventing itself.
BET: What are some of the things you're focusing on in 2023?
DK: I have a lot of things in the works that I can't talk about, but just know I'm always working. And for the people that have been following me throughout my career, you know when I do something I just pop up with the news. It's not like I'm working on this and I just can't wait. It be like damn, Diamond I didn't know you were working on that. That's just how I move.
BET: And finally, give me your Super Bowl prediction, or s**t talk or whatever you want to say about it…
DK: It's going to be a blowout. Ok? Paul, the next time me and you talk, I'm going to have my ring. Listen, I'm telling you right now, we're going to blow them out of the water. I ain't even going to say their name, it's just them. We gon blow them out of the water. You hear me? We soaring! we flying, we doing all of that and it will be a complete blowout. Look at the stats. That's all I gotta say. I don't even got to talk s**t 'cause y'all see the numbers. Let's f*****g go. Can't wait.